St Marys 1971 announcements

7:00pm Thursday March 15, 2018
Stacked Burger
7637 Ivory Ave
_______
7:30pm Thursday April 19, 2018
St Mary's Alumni Association Meeting
In the cafeteria
______________
6:00pm Thursday April 26
Failoni's
(with the crowd from Benedictine College)
__________
7:00pm Thursday May 17
Cafe Telegraph


2650 Telegraph Road
_____________________________
Saturday May 19 Buddy Bass Tournament
1:00- 4:00 PM Saturday June 2, 2018
Dragon Fest

St Mary's Campus Quad
This event is sponsored by the SM Father's Club
and is always well attended.
$20 admission buys hot dog, beer/soda lunch
and lots of fun!
_____________________
7:00pm Thursday July 26, 2018


Gateway Grizzlies vs. Evansville Otters
Grizzlies' Park
Mousette Lane and I-255
Sauget, IL
______________________
7:30pm Thursday August 16, 2018
St Mary's Alumni Association Meeting
In the cafeteria
______________
Sunday September 23, 2018

Fred Hoyt Memorial
Golf Tournament
_______________
7:30pm Thursday October 18, 2018
St Mary's Alumni Association Meeting
In the cafeteria
_______________
1:00- 4:00 PM Sunday October 21, 2018
4th Annual Taste of SM

At this event $25 per person buys all you can eat and enjoy
from various Dragon-owned Restaurants and Bars
Chuck Schwarz '71 brings treats from
Donut Drive-In
Click here
to see photos from the 2017 Taste of SM
7:30pm Thursday December 7, 2018
St Mary's Alumni Association
Christmas Party
In the cafeteria
____________
Please join the Alumni Association by
clicking the link below. It's only $30 and all us would love to
be able to say Class of '71 has the most members of any graduating class!
Click the dragon to go to the Alumni Association's website to join up for only $30
St Mary's has a goal of a minimum of 500 annual members.
We are currently at 343
Let's do our part to help make it happen.
_________________________
-Past Events-
March 1 SM Basketball
91-64 Dragon victory over Confluence
advances St Mary's to
sectional match vs Vashon
7:45pm Tuesday 03-06 at Parkway West HS
____________
February 15 Alumni meeting
'71 board members; Larry Held and Kevin Humphrey
also in attendance Frank Flesch, Mick Rea and Rick LaGrotta
______________
February 8
at DocHaus
Dan Armbruster, Phil Miceli, Ed Lehrman, Mick Rea,
John Pipitone, Rich Rutledge, Bob Simokaitis, Rick LaGrotta
Mike Dauphin and his son Matt
_______________________
January 25
at Biggie's
Above is birthday boy; Phil Miceli,
Rick LaGrotta and suprise dragon; Doug Dickmann.
Also present were Bob Simokaitis, Rich Rutledge,
John Pipitone, Dan Armbrister. Mick Rea and Mike Dauphin
2017 SM Aumni Christmas Party
Flesch, LaGrotta, Held, Favre, DeGreeff, Armbruster, Rea, Panneri
not pictured Sam Ribaudo, all had a great time at the party.
__________
2017 Taste of SM
Pictured above at the 2017 Taste of St Marys were '71 Dragons
Held, Humphrey, Schwarz and LaGrotta
not pictured; Armbruster, Rutledge, DeGreeff and R Simokaitis.
Click here to see all the photos
__________
Bumping into this guy at a family wake
deserved a selfie-post on our class website
On his next birhtday Brother Francis (Doc) Heyer
will be 96-years old. He lives in a Marianist home on Maryland
in the central west end of St Louis. The photo was taken by Father Al McMenemy
Father Al and Brother Francis were long time friends of my uncle
John Eise who was a Marianist lay afiliate.
______________
Dragon Football 09-29-17
The new field was stunning, St Cecelia's Mexican fish fry was great.
Watching a Dragon victory over St Dominic's
made the night complete
Phil Miceli, Mike Rea, Rich Rutledge, Rick LaGrotta
and Surprise Dragon Tom Bruggeman and his brother Jim '72
________________
Owned by Matt Windisch '07 and another Dragon
What a great place!
Record attendance for a Thursday....15-Dragons and one Dragon mom!
Joe Rekart, Mark Durham, Kevin Humphrey, Larry Held, Daniel Armbruster, Mrs. Armbruster,
Rich Rutledge, Steve Buchheit, Rick LaGrotta, Mick Rea,
Bob Simokaitis, Jack Favre, Marty Erickson, John Pipitone,
and Suprise Dragon; Steve Walsh. Phil Miceli not pictured
one more photo...can leave out Phil!
Mick Rea, Phil Miceli, Marty Erickson, Steve Buchheit, Rick LaGrotta, Bob Simokaitis and Rich Rutledge
Money was collected to purchase a '71 Hole Sponsorship
__________
At the 08-17 Alumni meeting from '71were:
Board members: Kevin Humphrey and Larry Held along with
Ed DeGreeff, Dan Armbruster, Rich Rutledge, Frank Flesch and Rick LaGrotta
____________

SM Renaissance Meeting
at Sam's Steakhouse
At the meeting were: SM President Mike England and Director of Advancement Joe Divis.
From '71 were Frank Flesch, Bob Simokaitis, Dan Armbruster, Rich Rutledge, Carl Collignon, Rick LaGrotta
and surprise dragons: Scott Puettmann and Leo Haas.
The school and its president are working wonders to maintain and grow St Mary's academic and athletic traditions
while slowly updating buildings, grounds and technology needed to be competitive in today's education market.
Choosing an educational path, young men and their families have some pretty good choices.
St Mary's is still in the running offering a great education at a reasonable price.
The school's aim moving forward is to have and even stronger positive influence on the south side;
educating and guiding its young men while helping to stabilize the neighborhood
setting a high example and by welcoming all to make use of its state of the art athletic facilities.
The term Renaissance was chosen because of the program's objective;
a rebirth of St Mary's and of the South Side
St Mary's Alumni is one of the school's biggest strengths.
18% of St. Mary's Alumni contribute annually to the school.
Compared to 5-6% for alumni from other Catholic schools, we are far and away the best!
"St. Mary's" is a great answer to the St Louis question; "Where did you go to high school?"
You don't need a meeting or a special invitation to do what you know is right.
Please donate as you can to help the rebirth and to keep the tradition alive.
St Mary's High School
4701 South Grand
St Louis, MO 63111

____________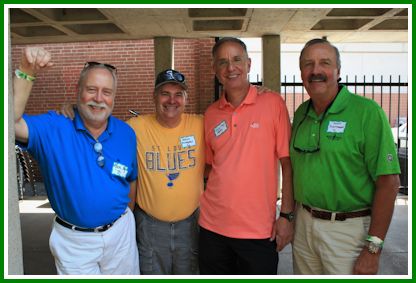 Pictured in a photo taken by Larry Held, are Magdelen boys;
Mick Rea, Kevin Humphrey and Leo Haas also above is MQU's Scott Peuttmann
______________________
The class reunion was a blast!
Paul Mueller, Mike Dauphin, Earl Carrol, Phil Miceli, Bob Simokaitis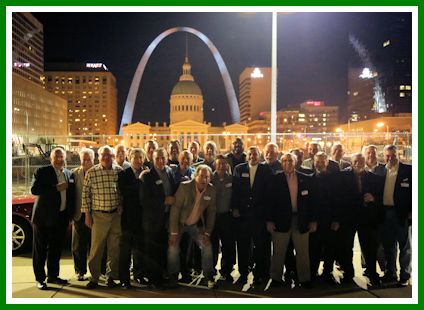 Class photo
Click either photo to see more shots from the reunion.
_________________________
Our class website is always looking to add classmates.
Currently we have 114 active and 154 inactive!
and if there is someone there you know well, ask him to create a profile.
Guest members
(classmate friends and family members)
are welcome too!
Creating a "Classmate profile"...it's easy and it's free!
confirm your contact information and enter a password.
______________________________
Class of '71 Website Stats
Home Page Visitors:
61,646
(cumulative total visitors we've had since creating our class web site)
Percentage Of Active Classmates: 41.8%

| | | |
| --- | --- | --- |
| A: | 114 | Active |
| B: | 154 | Inactive |
Please encourage fellow classmates to create a profile on the website.
Go to "Classmate Profiles" click your name, insert email address then click send.
___________________________________________
See photos of past class reunions
courtesy of Mike Krull
This class website was created: 2/4/2011