Heidelberg University
Class of 1978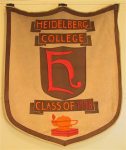 Hope the 2017 Alumni Weekend video will give you a taste of what YOUR reunion can be!
Click: Class of 1978 Facebook page
ANNOUNCEMENTS
Greetings Class of 1978!
Please use this webpage to get connected, talk about 40th reunion plans, update each other on what is new in your lives, etc. Happy sharing!
Cheryl Staib-Lewis
Executive Director of Advancement and Major Gifts
Heidelberg University
The countdown begins ... 1978 to 2018 ... get ready to celebrate 40 memorable years on Alumni Weekend, June 22-24, 2018!