In Memory
Tom Bazicki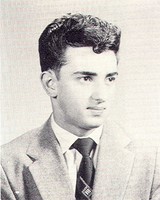 Thomas Bazicki

TROY - Thomas M. Bazicki, 72, passed away Wednesday, January 13, 2010, at Samaritan Hospital.

Tom was born in Troy, the son of the late Michael and Mary (Campana) Bazicki and was a lifelong resident. He was a professional musician for more than 50 years, playing with the group, Valentino's, right out of high school. Tom played the accordion early in his career and then the keyboard as he got older. He was also the owner and operator of Mickey's Mousetrap in Latham for a few years, but music and family were his true passions.

Tom is survived by his devoted wife of more than 51 years Peg, his loving sons, Thomas (Kathleen) Bazicki and David; four grandchildren; brothers, Michael and Phillip (Kathy); several nieces and nephews, and long time friend John Russo.