United States Air Force Academy Preparatory School
Class Of 1971
In Memory
Richard A. Mocarski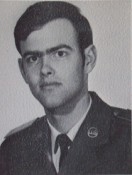 Bruce,
I received a letter from you yesterday that I think was intended for my father.
My father was Richard Mocarski and attended the airforce academy.

I am sorry to inform you that he is no longer with us.
He died in 1994 of cancer, but remains in our thoughts.

Sorry to be the bearer of bad news, but I thought you should know since
you were trying to reach out to him.

Take care,
Richard Mocarski Jr.
******************************************************************************
Rich,
Thank you so much for your reply.
I am so sorry for your loss.
Your father was always ready to lend an ear while I tried to sort out
my feeling from the loss of my own father about 1 1/2 year prior to our
time at the USAFA Prep School.

I can seriously say that I would probably not have been able to complete that
year were it not for your father's help.

With my prayers for your comfort and healing -
God bless you and yours.

Bruce Hancock