Whitehouse High School
Classes Of 1970-1978
The Reunion Idea
In January of 2008, our friend and classmate, Debbie (Tomlin) Trahan lost a long and courageous battle with cancer. She was buried at the Whitehouse Cemetery and there were a number of familiar WHS faces at her graveside service. Afterwards, a small group gathered at Cheddar's in Tyler to remember and reminisce about the 'old days'. Friends that gathered ranged from the the class of 1970 through 1974 and talk began to turn to a reunion of several classes. And the idea was born.
Debbie worked as a counselor in the Burnet school district. After her death, her family established a scholarship fund in her name. As a result of the great success of the reunion and additional donations, the joint classes of 1970 - 1978 were able to donate $1500 to this scholarship fund in the Reunion name.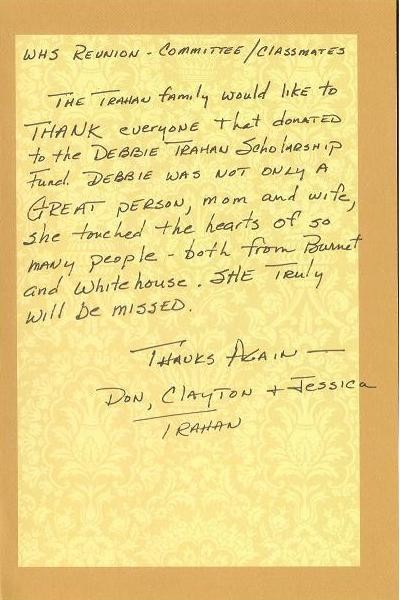 Please visit our In Memory link at the left. You may click on the names of the individuals listed and post a comment or read some of the many comments that have been posted.