Ahart/McCabe Family Web Site
18 century to date
Welcome to the Ahart/McCabe Family website.

Dow City, Iowa. Crawford county
Created November 16, 2008...................... Turn on your speakers....
Please read family members below
.
---
---
---
Photo upper left of page is that of George Weiland, born 17??, father of Elizabeth Weiland (below), Great Grandfather of Louis Ahart. Great Great Grandfather of Connie Buss & Great Great Great Grandfather to me (Jeff Buss). WOW. I'm Confused...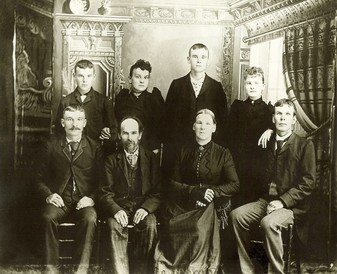 Back row; Ed Ahart, Mary Ahart Stepanek, John Ahart, Kathrine Ahart Smith, Front Row; George Ahart, Joseph Ahart (Father) born 1833, Elizabeth Wieland (mother) born 1837, Thomas Ahart
---
---
· Family Members ·
Please leave your information in your profile!
Just click on the Ahart/McCabe family link in the upper left. Click on your name or spouses name and then enter your information, photos and videos. If your name has not been added yet just email me and I will see that it is. Entering your information will give everyone an easy access list of address's and phone numbers of all the family members. So please leave your Info...Thank You! Not to worry about ousiders the pages are password protected..
Someone getting married or if there is a new baby, please send in the INFO. so the family tree can be updated..
This site is a work in progress. Names are still being added. If you do not see your name on the list and would like to start your profile, email me jbuss@att.net and I will see that it is added ASAP. Thank You!!

Margaret McCabe (back) with left to right; Dot (niece),
Great Aunt Mary Ellen (sister), & daughters Ruth, Marian, & Loretta
---
---
Hello everyone, Jeff Buss here. I am the site administrator. If you have any questions, feel free to email me at jbuss@att.net Thanks!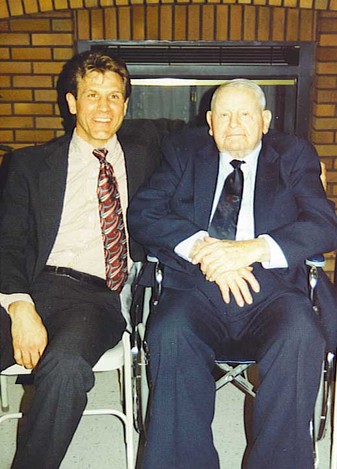 Jeff Buss, Grandson of Louie & Clara Ahart,
Son of Jim & Connie Ahart (Buss) with grandpa Louie Ahart
---
---