North High School
Class of 1984
Welcome to the Wichita North Nigh 30 year class reunion page. We are planning our class reunion for the weekend of October 24-26, 2014. See the 30 year reunion tab to the left for details. Our first goal is to try and find everyone, so please find your name under the classmates profile or missing classmates, and fill out as much information as you would like. If you see a name on the missing classmates page and know how to get in touch with the person, please direct them to this site. If you are interested in being on the planning committee, send me a message and I will invite you to the meetings. We are looking forward to seeing everyone and having a fun weekend!
Ann Hommertzheim (Tracy)
ANNOUNCEMENTS
To find out more details about the reunion and sign up, click on "30 year reunion". Follow the steps to sign up; it is easy and you can pay by check or credit card. If you need to cancel, you can cancel up to Sept 15th with a full refund.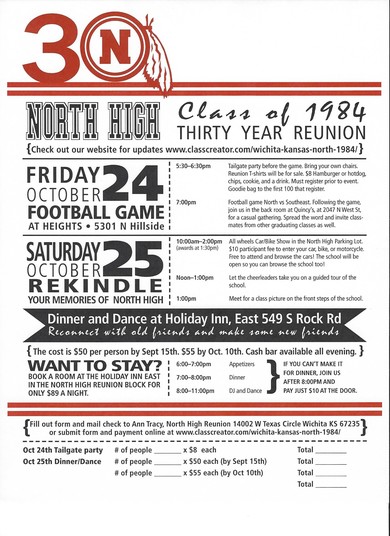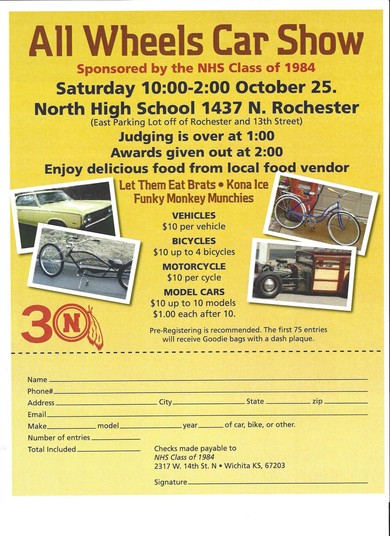 We have t-shirts for sale!
T-shirt design by Jon T. Cruz and Melissa Porter, both North High Alums. $20 if you pick up the t-shirt either from our committee (they will be ready mid-late May), or at the reunion. $25 if you would like the t-shirt mailed to you.
Please mail your check (made out to North High reunion 1984) and include your size, to Ann Tracy 14002 W Texas Circle Wichita KS 67235. Thanks for supporting our reunion!
If you are planning on coming to the reunion, and would like to stay at a hotel, Holiday Inn East has 20 rooms blocked for us, and is giving us a great rate-$89/night! Just let them know that you want to book a room in the North High Class reunion block.