Olympus High School
Class Of 2000
Welcome to The Olympus High School Class of 2000!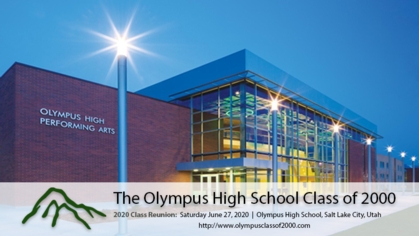 Save The Date! 20th Class Reunion: Saturday, June 27, 2020
Save the date! The 20th Reunion of the Olympus High School Class of 2000 will be held Saturday, June 27, 2020, at Olympus High School, Salt Lake City, Utah.
We have reserved the high school for that date and will be assembling a reunion committee to help organize and plan the event. Details will be forthcoming.
We've taken your comments and suggestions into consideration and appreciate the feedback received. Our goal is to make this as accessible and inviting as possible to optimize our attendance! Based on survey data and availability, we have selected this date to help with travel and time off so it precedes July 4th weekend.
We heard your concerns regarding fragmenting attendance over multiple events, so we have decided to make this a single day and single venue event for adult classmates and one adult guest only. We invite you privately to catch up with your classmates and families while visiting.
While some may not agree with the location, the overhead for booking the high school was minimal and will allow us to focus on making the event as memorable as possible rather than spending a lot on venue fees. Despite the school being rebuilt, we felt it befitting at a landmark 20 years for the venue to be especially nostalgic as we look back on two decades since high school.
Details of the event will be organized by our 20th Reunion Committee. We are looking for volunteers and two individuals with organizational skills to co-chair the committee. Please contact us directly if you are interested in leading the committee or volunteering your time to help out.
We look forward to seeing you this summer back at Olympus High School for the 20th Reunion!