Boyd Co High School
Class Of 1981
It's about reconnecting with our friends from some of the best years of our lives.
It's about caring for our classmates and their families.
Nothing more. Nothing less.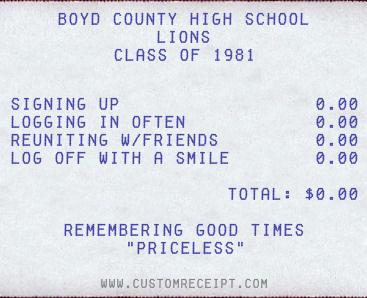 Welcome
to the
Boyd County High School
Class of 1981
Website
This is the official home for
all Classmates of BCHS
who graduated in 1981, moved away

before

graduation or finished

at another school.
You are all welcome here!
Make a Profile - Don't be left Out!
Get connected send an e-mail to that one person you never spoke to in school, to an old friend you have lost touch with, a crush or just to say "Hello".
Notice

- If you have problems viewing any of these pages or something doesn't quite look right keep in mind that each browser has its own weird quirks. This site was created on Firefox and may not look the same on other browsers. If you see any problems notify me and I will look into it.
We need your old

photos, updates, and memories

to enhance this site

as well as to make certain it represents ALL of the members from

the BCHS Class of 1981. Even if you haven't attended a reunion, nor

kept in touch at all since graduation, we ask that you please take the time to update your profile and maybe even submit a photo or two.

We're certain your fellow classmates would love hearing from you, and you may even reconnect with an old friend! Your submissions

will

make this site fun, interesting and complete. So, add your own personal touch and see what happens!
_______________
IF YOU HAVE CARES AND CONCERNS IN YOUR LIFE AND WOULD LIKE YOUR FRIENDS HERE ON OUR WEBSITE TO PRAY OR KEEP YOU IN THEIR HEARTS, PLEASE GO TO LEFT AND CLICK ON CARES AND CONCERNS.
I HAVE A COUPLE REQUESTS I HAVE POSTED AND IF YOU HAVE SOMETHING, PLEASE EMAIL ME WITH YOUR REQUEST AND I WILL POST ON THAT LINK. THANKS!
Remember...life is easier with friends!
Greetings Friends,
It is hard to believe but it has been 37 years since our Graduation. We are glad you have found our site.
First- Make a profile
This helps us keep track of classmates. Your email is private and is not used by anyone except for our own class communications. You can control how much information you share. This is a very secure site.
Create Profile and Password: Before you can update your personal information and access password protected pages, you must create your profile and password. Please click on Classmate Profiles (at very top), find your name and click on it. Follow the prompts to create your profile and password. The password you enter during this process will be used as your login password. If you cannot find your name on the Classmate Profile page, please use the Contact Us button to have your name added.
Second - help us find classmates
If you know of lost classmates, help us find them.
Go to their profile and enter their email address. They will get a personalized email from us. These emails sometimes get stopped by spam filters.

Or just email them yourself and give them this link www.boydco81.com.
If someone has passed, let me (Charlene) know through the website so we can update the page and remember them.
So, spread the word!!!!
PLEASE CLICK ON FIRST WEBSITE VISIT LINK UP ALONG THE LEFT FOR MORE INFORMATION ABOUT THIS WEBSITE....
If anyone has any trouble at all please feel free to call me (Charlene "Butcher" Burns) at (606)739-4540. I will be glad to walk you through it.

"It is indeed ironic that we spend our school days yearning to graduate and our remaining days waxing nostalgic about our school days." - Isabel Waxman

---
LET ME KNOW IF YOU HAVE SOMETHING
TO ADD TO OUR CONTENT ON OUR SITE!
IT'S YOUR SITE!

***********************
FYI:
I cannot read messages being sent between classmates.
I cannot see how anyone voted on the polls and survey's - it's anonymous. So please feel free to participate.
I'll be setting up a survey for your feedback on what you liked/didn't like about the upcoming 35th reunion and what your thoughts are about the next reunion.
Thanks to the ones that have shown interest in the website. You are appreciated!
By: Charlene "Butcher" Burns
********
LIFE Happens..Get up, Get dressed, Show up...
Betchya you'll be glad you did!!!! (and so will everyone else!)

---
"In Memory" Link
The "In Memory" page is activated, and as sad as it is to think about, it is inevitable. We have had so many classmates pass away since high school, and too many have passed away just lately. And although they are not with us in body, they are with us in memory. We need your help in updating any information on these classmates or know of anyone that should be added, please let us know. Simply go to that page and fill in the information for us, at which point I will confirm and post the announcement. You can also add a little memo of your own to those that are already listed, a special memory or funny story. Remember, this page is not there for us to mourn our passed classmates, but to remember them and celebrate their life!
L
"Life may not be the party we hoped for...
but while we are here, we might as well dance!"
Thanks for visiting. Have a GREAT day ... and keep laughing.
It's good for the soul.