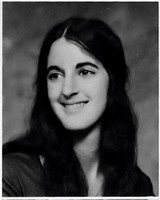 WENDIE A. GUTERL
August 18, 1955 - March 29, 2014
Wendie A. Guterl of Bethesda, Maryland peacefully passed away on March 29, 2014 after a long fight with breast cancer. She is survived by her husband of 35 years, Peter Guterl, her daughter Wittney, and her son Jeremy. Wendie is also survived by her parents, Edwin and Rita Greiner, and her sister Robin Greiner.
Wendie worked as an editor before becoming what she was best known as, a teacher of young children. For over 15 years she taught at the neighborhood nursery school her children previously attended, later moving on to assist children with special needs. Wendie was an active volunteer throughout her life, organizing fundraisers of all sorts and working with her friends to support the Mid-Atlantic Jazz Festival. She was a wonderful cook and will be fondly remembered for her delicious and prolific baked goods.
Wendie was a devoted wife, mother, daughter, and sister. She will be greatly missed by her family and countless friends.
A memorial service will be held Wednesday, April 2 at 1 p.m. at Congregation Har Shalom, located at 11510 Falls Road in Potomac, Maryland. In lieu of flowers, memorial contributions may be made to Hospice or to the charity of your choice .
Published in The Washington Post on Apr. 2, 2014
- See more at: http://www.legacy.com/obituaries/washingtonpost/obituary.aspx?pid=170458076#sthash.FbWEePsQ.dpuf