Anderson Creek High School Alumni Association 1926-1977

In Memory
Ishmael McDonald - Class Of 1942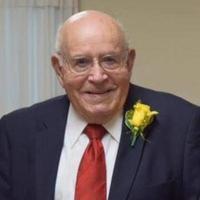 Ishmael McDonald
Ishmael McDonald, 94, passed away peacefully at home on Tuesday, February 18, 2020, surrounded by family, love and warmth, with his favorite hymns playing softly, becoming our guardian angel.
He was born on November 3, 1925 and was the first born son of Susan and Hawley McDonald. He is preceded in death by his parents and a sister, Willie Lou Gilchrist.
He was a Navy veteran and retired from Civil Service at Fort Bragg, NC as a Parts Manager in the Maintenance Department. For years he and his wife, Clara, farmed the family property in Anderson Creek. He also handled all the office management and logistics for Clara's Demo Service where he and Clara worked successfully together as business owners.
Ishmael was a Sunday school teacher, superintendent, and served as clerk of the session at Flat Branch Presbyterian Church for twenty years. His faith was a part of his soul, a Christian defender of the faith. In 2011 he was elected Pastor Emeritus of Flat Branch Presbyterian where he grew up and is still a member. In 2013 he was elected Pastor Emeritus at Palestine Presbyterian Church after serving there for thirteen years. He served the Erwin Presbyterian Church as well as Palestine Presbyterian Church of Linden as a lay minister.
Ishmael was completely in love and celebrated his and Clara's 72nd wedding anniversary on Friday, a lifelong love story. His family and his faith were the cornerstones of his long life. In the words of his great-grandson, Austin, he "lived up to his full potential".
He was an active member of Woodlake Country Club and an avid golfer. He was known to say that "golf is the only thing I can't fix". He enjoyed working with his son-in-law in the golf business.
Ishmael is survived by his loving wife of 72 years, Clara Bullard McDonald; only daughter, Linda Ann Taylor and husband, Stuart C. Taylor; grandchildren: Jennifer Taylor Reid and husband, Michael Tod Reid, Elliott McDonald Taylor and wife, Tiffany Dickens Taylor; great-grandchildren: Michael Tod Reid, Jr., Austin Taylor Reid, Brooks Elliott Taylor, and Grace Katherine Taylor; brother, Hugh Dallas McDonald and wife, Nell McDonald; nieces, Nancy Gilchrist, Carol Johnson and husband, Danny, Melissa McDonald and husband, Eric Grundstrom, and Susan Sigfrit and husband Rich Sigfrit; nephews, Robert Bullard and family, June and Jessica, and Mark Bullard.
A Celebration of Life Service was held on Saturday, February 22, 2020, at 2:00 PM at Flat Branch Presbyterian Church with Rev. Bruce Benton officiating. Interment followed in the church cemetery. A visitation for family and friends was held Friday, February 21, 2020, from 5:00 to 7:00 PM at Adcock Funeral Home in Spring Lake.