Anderson Creek High School Alumni Association 1926-1977

In Memory
Donald Johnson ((Principal))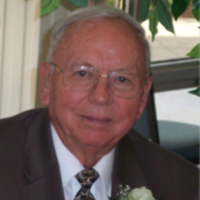 Mr. Donald Johnson, Principal of Anderson Creek from 1960-1963 has died.
Donald Leondrous Johnson, Sr., age 88, died peacefully surrounded by family on June 15, 2017. Born October 2, 1928 in Smithfield, NC, Donald was the son of the late John Leondrous Johnson and Lena Rivers Johnson. He was preceded in death by his six siblings; Ruby Johnson Tatar, John Edward Johnson, Helene Johnson Hinnant, Hazel Johnson Feazell, Linwood Powell Johnson, Harold Thomas Johnson.
Donald graduated from Wilson's Mills high school in 1945 at the age of 16. After attending one semester each at NC State and Campbell College, he attended Wake Forest College before graduating in 1950. He obtained his Master's Degree from Western Carolina and received his Principal's Certificate from UNC-Chapel Hill.
Donald taught school for six years at Oak Hill School in Granville County where he met his future wife. He was principal at Mingo School in Sampson County from 1954-1959. He was principal at Anderson Creek School in Harnett County from 1959-1963. He was principal at Fairmont School from 1963-1968. He then became the principal at Northern Nash High School in 1968 where he stayed until 1982. He finished his career at Williford Elementary School in Rocky Mount, retiring in 1986.
Donald leaves behind to cherish his memory his loving wife of 62 years, Mildred Royster Johnson; son Donald Leondrous Johnson, Jr. and wife Wanda of Rocky Mount; daughter Vivian Johnson Raper and husband Stan of Rocky Mount; daughter Elmina Johnson Smith of Rocky Mount and friend Steve Croom; son John Robert Johnson and wife Regina of Rocky Mount; grandchildren Donald Britt Johnson and wife Samantha of Boone, William Pullen Johnson and wife Kaylynn of Wilson, Robert Grant Johnson of Raleigh, Auburn Smith Ebrahim and husband John of Winston-Salem, John Stanford Raper III of Rocky Mount, Graysen June Smith of Nashville, Allison Foy Raper of Greenville, John Robert Johnson, Jr. and wife Anna of Rocky Mount, Kathryn Michael Smith of Rocky Mount, Jared Thomas Johnson of Rocky Mount, Jason Spencer Johnson of Rocky Mount, Rebecca Lynn Johnson of Rocky Mount; one great-grandchild, Becton Grant Johnson of Wilson, special niece Cindy Feazell Matthews and husband Frank of Rocky Mount, and numerous nieces, nephews, and great-nieces and great-nephews.
Daddy deeply loved his Lord and Savior Jesus Christ. He was a faithful and devoted member of First Baptist Church since moving to Rocky Mount in 1968. He served in various capacities at the church including Chairman of Deacons and Sunday School teacher. He enjoyed his 31 years of retirement by spending countless hours with his family. For over 20 years, he would go with his wife to her home place in Granville County to mow the grass and keep the home place up. He was an avid bridge player and would play every chance he could. He played his last hand of bridge the day he entered the hospital. He loved watching westerns and sports on TV. He also enjoyed watching his grandchildren's sporting events and other activities. He gave many educators in the Nash County area their first job. He was a Godly man, a man of character, had a great sense of humor, and will be missed by his family and all who knew him.
A Funeral Service was held on Saturday, June 17 at 1:00 PM at First Baptist Church, 200 South Church Street, Rocky Mount with Rev. Bill Grisham and Rev. Larry Curtis officiating. Burial took take place in Virgilina, Va. at the Virgilina Cemetery at 4:30 PM on Saturday, June 17, 2017. The family received friends and relatives on Friday, June 16, 2017 from 6:00 PM to 8:00 PM at Wheeler & Woodlief Funeral Home & Cremation Services in Rocky Mount, NC.