Anderson Creek High School Alumni Association 1926-1977

In Memory
Agnes Stewart (Reaves) - Class Of 1968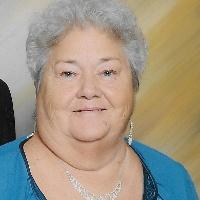 AGNES STEWART REAVES, 12/18/48-6/20/19
Mary Agnes Stewart Reaves, 70, of Linden, NC, passed away on Thursday, June 20, 2019 at Central Harnett Hospital in Lillington, NC. Agnes was born in Harnett County on December 18, 1948 to the late Thomas and Christine Stewart.
She was preceded in death by brothers, Larry Thomas Stewart and Jerry Wayne Stewart and a sister, Audrey Lee Bryant.
She is survived by her loving husband of fifty-four years, Johnny Reaves; sons, Bobby Thomas Reaves and Brian Lee Reaves (Leighann); sister, Carolyn Sue Godwin; grandchildren, Jeremy Ray Reaves, Brandi Marie Reaves, Johnathan Thomas Reaves, Victoria Leigh Reaves and Brandon Lee Reaves; a great-granddaughter, Caroline Norris, and four nieces and five nephews.
Funeral services were held on Sunday, June 23, 2019 at 3:00 p.m. in the chapel of Adcock Funeral Home. Interment will immediately follow in Riverview Memorial Gardens in Spring Lake. A visitation for family and friends was Saturday, June 22, 2019 from 7:00 – 9:00 p.m. at Adcock Funeral Home in Spring Lake.