In Memory
Milton Raymond Anderson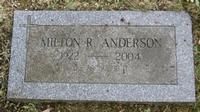 Milton Raymond Anderson
Private
304th Station Hospital
27 Jul 1922 Jamestown, New York
12 Jul 2004 Jamestown, New York
Milton R. Anderson, 81, of 34 Clyde Ave., died at 10:14 a.m. Monday (July 12, 2004) in his home.
A lifelong area resident, he was born July 27, 1922, in Jamestown, the son of Arthur and Ella Lundberg Anderson.
He was a veteran of World War II, serving in the U.S. Army from 1942 to 1946 during the European, African and Middle Eastern campaigns. He had been employed by the former Dahlstrom Manufacturing Co. for 44 years, retiring in 1985. He was a member of the International Association of Machinists and Aerospace Workers, and the Ira Lou Spring Post 149 American Legion. Possessing a wonderful sense of humor, he always had stories to tell and enjoyed a good laugh. Milt loved the sound of his grandchildren's voices and their laughter. He liked listening to jazz, big band and polka music and enjoyed playing the drums. He will be sadly missed by his good friend, Sue Peavey. He is survived by a daughter, Martha Lindquist Chapman of Punta Gorda, Fla.; a son, Martin C. Anderson of Jamestown; and five grandchildren: Kirsten and Erika Lindquist, both of Rochester, and Elizabeth, Thomas and Jonathan Anderson, all of Jamestown. He was preceded in death by his wife, Helen Lawson Anderson, whom he married Dec. 27, 1952, and who died in 1960.