In Memory
Robert William Beebe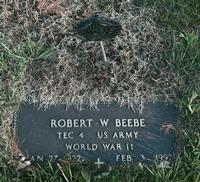 Robert William Beebe
Tech 4
304th Station Hospital
27 Jan 1922 Northampton, Massachusetts
3 Feb 1992 Northampton, Massachusetts
Robert Beebe, 70, of 37 Goshen Road, died on Monday at The Cooley Dickinson Hospital in Northampton.
He was a foreman in the dye department at National Felt Co. in Easthampton, and retired in 1984. He then worked until his death as a custodian in the Williamsburg office of the Postal Service.
Born in Northampton, he lived here most of his life. He was an Army veteran of World War II, and served in the European-North African-Middle Eastern theaters.
He was a charter member and former director of the Williamsburg Lions Club. He was also a member of Michael F. Curtin Veterans of Foreign Wars Post 8006 in Florence, and the former Williamsburg Rod and Gun Club.
He leaves his wife, the former Janet LaVoy; three sons, Wayne of Dracut, Robert of Reno, Nev., and Peter of Westhampton; a daughter, Debra Beebe-Morin of Westhampton; two sisters, Ruth Beebe of Amherst and Esther Stacy of Hillsborough, N.C., and six grandchildren