In Memory
William Lumsden Bundy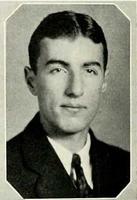 William Lumsden Bundy
Medical Officer
304th Station Hospital
31 May 1912 Hertford County, North Carolina
8 Aug 2003 North Wilkesboro, North Carolina
Dr. William L. Bundy, age 91, of North Wilkesboro died Friday, August 8, 2003 at his home.
Burial will be in Mountlawn Memorial Park.
Dr. Bundy was born in Hertford County, NC, May 31, 1912, to Jesse David and Katie Bizzell Bundy. He was a member of the First United Methodist Church of North Wilkesboro. Dr. Bundy served in the US Army during World War II. After attending Duke University, he graduated from the University of North Carolina at Chapel Hill and the Vanderbilt School of Medicine. He did his internship at Emergency Hospital in Washington, DC. He was a lifetime member of the Wilkes County Medical Society, the North Carolina Medical Society, and the American Medical Society. He was the founding physician of the New River Detox Center, later named the Bundy Center.
Dr. Bundy is survived by one daughter, Julia Kilby of Wilkesboro; one sister, Miriam Baldwin of Durham; two grandchildren, Jordan Welborn and Sam Welborn; Longtime Friend, co-worker, and companion, Ruth Graham of North Wilkesboro.
Burial:
Mountlawn Memorial Park
North Wilkesboro
Wilkes County
North Carolina, USA