In Memory
Margaret Helen Burke (Lea)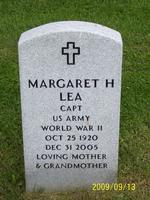 Margaret Helen Burke Lea
Nurse
304th Station Hospital
25 Oct 1920 Whitinsville, Massachusetts
31 Dec 2005 Berlin, Vermont
Times Argus, The (Montpelier-Barre, VT) - Wednesday, January 4, 2006
MONTPELIER - Margaret H. Lea, 85, formerly of Main Street, Montpelier, died on Saturday, Dec. 31, 2005, at Woodridge Nursing Home in Berlin.
She was born in Whitinsville, Mass., on Oct. 25, 1920, to James and Margaret (O'Reilly) Burke.
Margaret graduated from Whitinsville High School in 1937 and from the St. Vincent's School of Nursing in Worcester, Mass., in 1941. Upon completion of a special course in anesthesia, she entered the United States Army, where she served in the European Theater, attaining the rank of captain.
After discharge from the army, she worked at the Veteran's Hospital in White River Junction, where she met her first husband, Marshall Rector, whom she married on June 9, 1948.
Margaret and her husband moved to Montpelier, where she became a supervisor at Heaton Hospital and later worked at Central Vermont Hospital and McFarland House. She retired in 1988.
Upon the death of her first husband, Margaret married Oliver Lea in April 1965, who predeceased her in 1995.
She was active in the American Legion Post No. 3 in Montpelier, becoming the first female commander of that post in 1972. She held various posts at the American Legion and was a life member. She was also a member of Brown-Johnson Post No. 792 VFW Montpelier. In the late 1950's, Margaret was active in the Girl Scouts.
Margaret is survived by daughters Margaret Bahnson of Rutland and Patricia MacLean of Concord, N.H.; grandchildren Kimberly Attocknie, Jennifer Bahnson and Gregg Bahnson; great-grandchildren Taylor Adkins, Darin Attocknie Jr. and Emmily Attacking; and a sister, Catherine Hetherman of Cranston, R.I.
In addition to her parents, she was predeceased by her brothers and sisters James, Charles, Ann and Rita. Services will be held at the Vermont Veterans' Memorial Cemetery in Randolph Center in the spring.
Barber & Lanier Funeral and Cremation Services are in charge of arrangements.