In Memory
William Groh Buttorf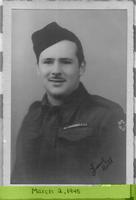 William Groh Buttorff
Tech 5
304th Station Hospital
18 Oct 1921 Lewistown, Pennsylvania
12 Aug 1988 Felton, Pennsylvania
Patriot-News, The (Harrisburg, PA) - August 14, 1988Deceased Name: William G. Buttorff
FELTON - William G. Buttorff, 67, of Felton RD 3 died Friday in York Hospital. He was a bricklayer and a member of Bricklayers Union 1, Dallastown American Legion Post 605 and Red Lion VFW Post 1446.
Surviving are his wife, Mary J. Cross Buttorff; four sons, Roger L. of Accident, Md., Terry B. of Felton RD 3, Teddy S. of Stewartstown and Danny H. of New Park; two sisters, Relda Hazzard of Williamsport and Ivy Lundquist of Homestead, Fla.; 11 grandchildren; and two great- grandchildren.
Services will be held at the convenience of the family.
Burial will be in Round Hill Cemetery, Crossroads.
There will be no viewing.
Memorial contributions may be sent to the American Lung Association, South Central Pennsylvania Chapter, 488 W. Market St., York 17402.
Arrangements are being made by the Eberly Funeral Home, Dallastown.
Edition: FINAL
Page: B2