In Memory
Helen Anne Cichonowicz (Doleva)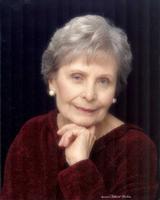 Helen Anne Cichonowicz Doleva
Nurse
304th Station Hospital
12 Jan 1918 Boston, Massachusetts
30 Jun 2010 Norwood, Massachusetts
Helen A. Doleva, 92, died Wednesday June 30, 2010 at Norwood Hospital in Norwood. She was the wife of Alexander S. Doleva, whom she married on Dec. 1, 1956 at St. Mary's Catholic Church in Springfield, Vt.
Born on Jan. 12, 1918, in Boston, she was the daughter of Thomas and Annie (Krasowski) Cichonowicz. She attended Springfield schools and graduated from Springfield High School, class of 1936. She attended and graduated from the Rhode Island School of Nursing in Providence, class of 1939, and in 1950 graduated with a Masters degree in Public Health Nursing from Simmons College in Boston.
She served with the United States Army Nurses in WW II, stationed in England and Germany, and also served during the Korean War, achieving the rank of first lieutenant.
A registered nurse, she was employed in hospitals and public health nursing over the years. She made her home in Philadelphia for a short time, and has resided in the Foxboro area since 1956.
She was a member of St. Mary's Catholic Church in Foxboro.
She enjoyed knitting, collecting books and antiques, botany and gardening, reading and animals -- especially her cat Snoopy.
In addition to her husband, she is survived by two daughters, Mary V. Deroche of Hudson, N.H. and Alexandra J. Doleva of Foxboro; two grandchildren; a brother, Stan Cichonowicz of Springfield, Vt.; and several nieces and nephews
She was the sister of the late Mary Grant and Gaynor Davis.
Calling hours are scheduled for tonight (July 8), 6 to 8 p.m. at the Davis Memorial Chapel in Springfield, Vt. A funeral Mass will be celebrated on Friday at 11 a.m. at St. Mary's Catholic Church in Springfield, Vt. Burial will follow in St. Mary's Cemetery there.
Contributions in her memory can be made to the New England Wild Flower Society / Garden in the Woods, 180 Hemenway Road, Framingham, MA 01701.