In Memory
Wellington Sumner Cross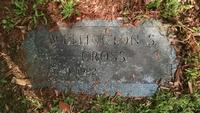 Wellington Sumner Cross
Private
304th Station Hospital
31 May 1922 Northfield Falls, Vermont
1 Aug 2001 Berlin, Vermont
Times Argus, The (Montpelier-Barre, VT) - August 5, 2001
Deceased Name: Wellington Cross
NORTHFIELD FALLS - Wellington Cross, 79, of Cardinal Road, died at Woodridge Nursing Home in Berlin on Wednesday Aug. 1, 2001.
He was born in Northfield May 31, 1922, the son of Robert and Loretta (Spear) Cross and attended schools in Northfield.
In April 1963, he married Shirley Roberts in Windsor. She died in November 1976.
He was an Army veteran of World War II, and a member of VFW Post 6674 in Northfield, and Sorrell Maynard Post 63 American Legion of Northfield.
Survivors include one daughter, Wendy Markham of Northfield; three stepsons, Charles Slocum of Northfield, Gene Slocum of Windsor, and Stephen Slocum of Barre; one brother Burnham Cross of Northfield; two sisters, Mildred Nadeau of Florida, and Betty Kolb of New Jersey; 10 grand and stepchildren; eight great and stepchildren; and several nieces and nephews.
Funeral services will be held in the United Methodist Church in Northfield on Tuesday Aug. 7 at 11 a.m. Burial with military honors will be held in Northfield Falls Cemetery.
There are no visiting hours, and in lieu of flowers, donations may be made to the Woodridge Nursing Home in Berlin.
Kingston Funeral Home in Northfield is in charge of arrangements.