In Memory
Colus Edward Dungan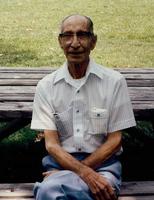 Colus Edward Dungan
Tech 5
304th Station Hospital
26 Dec 1913 Hyacinth, Virginia
5 Dec 1992 Forestville, Maryland
Colus Edward Dungan, 78 of Forestville, Maryland formally of Hyacinth, died Saturday December 5, 1992 at his residence.
He was a retired electrician with the Naval Research Laboratory, Department of the Navy and an Army World Was II Veteran.
Surviving are his wife, Adriel Minor Dungan; two sons, Gary Dungan and Donald Dungan both of Waldorf, Maryland; a granddaughter Heather Dungan, Indian Head Maryland.
Funeral services were held at 2:00 p.m. December 7 at the Jones-Ash Funeral Home, Rainswood, with Rev. Thomas Jennings officiating.
Interment was in Henderson United Methodist Cemetary, Hyacinth.
Pallbearers were William Sanders, J. R. Anderson, Arthur (Rookie) Glinke, Ben Pierson, Gene Pierson, Robert Coates and Jimmy Coates.