In Memory
William J Eggena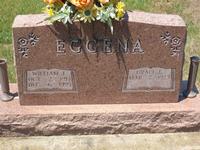 William J Eggena
Technical Sergeant
304th Station Hospital
2 Oct 1913 Mason County, Illinois
6 Dec 1995 Pekin, Illinois
Peoria Journal Star, The (IL) - December 7, 1995
Deceased Name: WILLIAM EGGENA
PEKIN -- William J. Eggena, 82, of 13542 Illinois Route 29 died at 10:30 a.m. Wednesday, Dec. 6, 1995, at Hallmark House Nursing Center.
Born Oct. 2, 1913, in Mason County to Harm J. and Wendelke Arenholz Eggena, he married Grace E. Nannen on April 11, 1943, in Manito. She survives.
Also surviving are one son, David W. of Zion; one daughter, Carolyn Trotter of Pekin; five grandchildren; 11 great- grandchildren; two brothers, Henry of Denver, Iowa, and George of Sun City, Ariz.; and two sisters, Elizabeth Mathias of Pekin and Anna Seelye of Green Valley. He was preceded in death by three brothers, one sister and one grandson.
He worked for CPC Inc. for 29 years, retiring in 1977. A World War II Army veteran, he was a member of the Pekin AMVETS. He also was a member of Trinity Lutheran Church.
Services will be at 10 a.m. Friday at Woolsey Funeral Home in Pekin, where visitation will be one hour before services.
The Rev. Darwood Kesselmayer will officiate. Burial will be in Sand Prairie Lutheran Cemetery in Green Valley.
Memorials may be made to American Diabetes Association or his church.
Edition: ALL
Page: D6