In Memory
John Anthony Gattozzi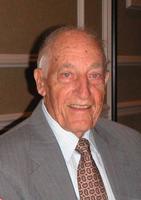 John Anthony Gattozzi
Staff Sergeant
304th Station Hospital
2 Nov 1917 Milford, Massachusetts
13 Aug 2010 Boston, Massachusetts
Cape Cod Times (Hyannis, MA) - August 18, 2010
Deceased Name: John A. Gattozzi Sr., 92 Ran Jay Jay's Clam Shop in Cataumet
CATAUMET — John A Gattozzi Sr., 92, of Cataumet, formerly of Milford, died at Brigham & Women's Hospital on August 13, 2010. He was the husband of Louise A. (Cubellis) Gattozzi to whom he was married 62 years.
During World War II, Mr. Gattozzi served as a Master Sergeant in the U.S. Army and was stationed in England, France and Germany. He returned home from the war in November 1945 and eventually settled in Cataumet after meeting his wife. From 1950 to 1981, he and his wife ran Jay Jay's Clam Shop in Cataumet. During this time, he also worked for the Barnstable County Hospital. He enjoyed hunting and fishing, and was a member of the Monument Beach Sportsmans Club.
In addition to his wife, he is survived by twin children, John A. Gattozzi Jr. of Delray Beach, Fla., and Johanna Okerholm and husband Robert of Sharon; grandchildren, Andrea Okerholm of Arlington and Pamela Okerholm of Watertown; and siblings, Angela Dicenzo of Georgia, Arthur Gattozzi of Milford, Bernard Gattozzi of Medway, and Christina Saunders of Hampton Beach, N.H.
Visiting hours will be from 5 to 8 p.m. on Thursday, August 19, 2010 in Chapman, Cole & Gleason Funeral Home, 584 West Falmouth Highway (Route 28A), West Falmouth. A funeral Mass will be celebrated at 11 a.m. on Friday, August 20, 2010, at St. John the Evangelist Church, 841 Shore Road at Barlows Landing Road, Pocasset, followed by burial at Massachusetts National Cemetery in Bourne.
In lieu of flowers, donations may be made to Children's Hospital, 300 Longwood Ave., Boston, MA 02115.
For online guest book and directions, please visit www.ccgfuneralhome.com