In Memory
John Paul Goff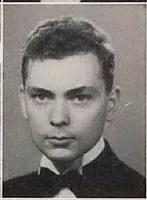 John Paul Goff
Medical Officer
304th Station Hospital
6 Oct 1919 Coraopolis, Pennsylvania
21 Aug 2000 Carbondale, Illinois
CARBONDALE -- Dr. John Paul Goff, 80, of Carbondale died on Monday, Aug. 21, 2000, at Carbondale Memorial Hospital.
He was born Oct. 6, 1919, in Coraopolis, Penn. to John and Carrie (Strub) Goff. John graduated from the University of Pittsburgh Medical School in the spring of 1943 and married Cornelia Van Balen on December 28, 1943 at St. Joseph Catholic Church in Coraopolis, Penn. He served his country in World War II where he was stationed overseas as a physician officer during 1944 until the war ended in 1945.
John and Cornelia moved to Carbondale in 1953 where John joined the Carbondale Clinic. He practiced internal medicine at the clinic until his retirement in 1987. John was a music lover and avid reader. He was a member of the American Medical Association, the American College of Physicians, the Jackson County Medical Society, and St. Francis Xavier Church in Carbondale.
He is survived by his wife, Cornelia; daughter, Carolyn Goff of Carbondale; grandsons Jan Ford of Scottsdale, Ariz. and John Eric Paul Goff of Carbondale; a sister-in-law, Mary Shortall of Silver Springs, Md.; a brother-in-law, Gerard Van Balen of Coraopolis, Penn.; several nieces and nephews; daughter-in-law Paula (Smith) Goff Feigenbaum and his grandsons' brothers, Brian Ford of Phoenix, Ariz. and Alex Schmidgall of Carbondale, who also called him granddaddy. John also leaves many colleagues and friends who have showed him and his family tremendous support throughout the years.
He was proceeded in death by his parents, his son John Matthew, his sister and brother-in law, Elizabeth and James Gould and nephew William Gould.
Funeral Mass will be held at 10 a.m. Thursday, Aug. 24, 2000, at St. Francis Xavier Church, with Father Robert Flannery officiating with interment immediately following at Oakland Cemetery in Carbondale. Visitation will be from 6-8 p.m. today at Huffman-Harker Funeral Home in Carbondale, where a vigil prayer service will be held at 7 p.m. this evening.
Memorials may be made to St. Francis Xavier Church.