In Memory
Evelyn Louise Hicks (Garrett)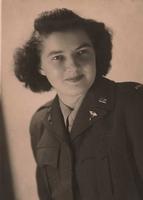 Evelyn Louise Hicks Garrett
Nurse
304th Station Hospital
16 Apr 1915 Lynn, Massachusetts
14 Jun 2009 Peabody, Massachusetts
Daily Item, The (Lynn, MA) - June 18, 2009
Deceased Name: Evelyn Garrett, 94 Nurse, WWII veteran
LYNN Evelyn Louise (Hicks) Garrett was well known to residents of the Fay's Estate neighborhood in Lynn. Having moved into a home her father built when she was five, she spent all but a few of her 94 years happily enjoying the friendship of this close family of neighbors. She was born in Lynn on April 16, 1915 and passed away peacefully on June 14, 2009 at her assisted living home, Sunrise at Gardner Park, Peabody.
She grew up in a large and family of ten children. As one of the oldest, she took on the responsibility of caring for younger siblings.
Her compassion was to shine throughout her life.
After graduating from Lynn English High School in 1933, she worked five years saving to attend nursing school. She later graduated from Chelsea Memorial Hospital School of Nursing with an RN and was named "Best Nurse" in her class. Working into her seventies, Evelyn's nursing career was long and diverse. She worked at New England Baptist Hospital early in her career; during the 1950' s as a community health nurse in Greenville, SC; as an operating room nurse at Parker Hospital in Lynn; and as a head nurse at Mt. Pleasant Hospital in Lynn, working in substance abuse rehabilitation.
The highlight of her career was the time she spent in the U. S. Army Nurse Corps during WWII. As a First Lieutenant she was stationed in England, Wales, France, Switzerland, Luxembourg and Germany. During this time, she b e c a m e engaged to Douglas Trickett, a Canadian Air Force Pilot.
He and his crew were lost over the English Channel.
Evelyn faithfully attended the 304th Station Hospital reunions over many years after the war.
She leaves her daughter and son in law, Helen Garrett and Gary Bert of Wenham, two grandsons Parker Bert and Logan Bert of Montreal, Quebec, a sister Florence Bianchi of Lynn, a brother Fred Hicks of Danvers, and many nieces and nephews.
She was predeceased by her husband Hovie W. Garrett and her siblings Anne Hicks, Dorothy Tirabassi, Edward Hicks, William Hicks, Robert Hicks, Alan Hicks and Philip Hicks.
Evelyn's compassion extended beyond her family and career. In her lifetime she owned many dogs and frequently offered a loving home to stray cats that showed up at her back door. She is survived by her cat Speckles.
Service Information: A memorial service will be held at a later date. Her cremains will be scattered in the English Channel. Donations may be made to the Hospice of the North Shore, 75 Sylvan Street, Danvers, MA 01923 or to the Northeast Animal Shelter, 347 Highland Ave Salem, MA 01970. Arrangements by the Goodrich Funeral Home of Lynn. Garrett.Page: C4