In Memory
Jean Joan Hosie (Pouliot)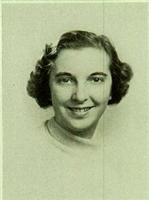 Jean Joan Hosie Pouliot
Nurse
304th Station Hospital
21 Jan 1921 Holyoke, Massachusetts
11 Apr 1991 Worcester, Massachusetts
Worcester Telegram & Gazette (MA) - April 14, 1991
Deceased Name: JEAN J. POULIOT
SHREWSBURY - Jean J. (Hosie) Pouliot, 70, of 107 Clinton St. died Thursday night in St. Vincent Hospital after she was stricken ill at her home.
Her husband, Gerard N. Pouliot, died last Nov. 19. She leaves a son, David G. Pouliot of Brimfield; a daughter, Michelle J. Pouliot of Seattle, Wash.; nephews and nieces. Mr. and Mrs. Pouliot observed their 43rd wedding anniversary last June 7. She was born in Holyoke, daughter of David and Isabella (Dick) Hosie, and lived here 43 years. Mrs. Pouliot graduated from Holyoke High School and Holyoke Hospital School of Nursing.
She was a veteran of World War II, serving as a first lieutenant with the Army Nurse Corps in England.
Mrs. Pouliot was a registered nurse for 20 years at Worcester State Hospital, retiring in 1981.
She was a member of Trinity Episcopal Church, its Altar Guild, its Martha Mary Group at Trinity and the Shrewsbury Senior Citizens. She also did pastoral care for the church.
Funeral services will be held at 2 p.m. Tuesday in Trinity Episcopal Church, 440 Main St. The Rev. Paul N. Taylor will officiate. Burial will be in Worcester County Memorial Park, Paxton. Calling hours at Howard C. Allen Funeral Home, 653 Main St., are 7 to 9 p.m. tomorrow. The family requests that flowers be omitted. Contributions may be made instead to the Memorial Fund of Trinity Episcopal Church, 440 Main St., Shrewsbury, 01545.