In Memory
Avery Edward Johnson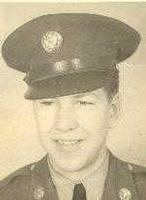 Avery Edward Johnson
Sergeant
304th Station Hospital
5 Oct 1922 West Bridgewater, Massachusetts
18 Dec 2006 Brockton, Massachusetts
Brockton- Avery E. Johnson, 84, of Brockton died Monday, Dec. 18, 2006, at Brockton Hospital. He was the husband of Alma F. (Peckham) Johnson.
Born Oct. 5, 1922, in West Bridgewater, he was the son of the late Simon and Ruth (Stetson) Johnson.
He was raised in West Bridgewater and had lived in Brockton since 1978.
Mr. Johnson was in the U.S. Army and served during World War II and the Korean War. He served for 20 years and retired as a Master Sergeant.
Mr. Johnson worked for the National Security Administration for 15 years, retiring in 1978.
He enjoyed golfing, bowling and spending time with his family.
In addition to his wife Alma, he is survived by three children, Lynne Johnson and Mark Johnson, both of West Bridgewater, and John J. Johnson of Bridgewater.
His funeral and burial services will be private. Arrangements are by the Prophett Funeral Home, 98 Bedford St. (Rte. 18), Bridgewater.