In Memory
Paul John Kluchnick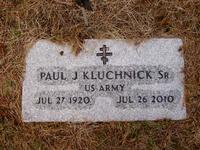 Paul John Kluchnick
Tech 5
304th Station Hospital
27 Jul 1920 Berlin, New Hampshire
26 Jul 2010 Gorham, New Hampshire
New Hampshire Union Leader (Manchester, NH) - July 28, 2010
Deceased Name: Paul John Kluchnick Sr.
GORHAM -- Paul John Kluchnick, Sr., of Gorham, died July 26, 2010, at his home.
He was born in Berlin, July 27, 1920, to John and Lizze (Meginoizi) Kluchnick who were Russian immigrants. He was a lifelong resident of Berlin and Gorham.
He was a 1938 graduate of Berlin High School, where he was a a football and baseball player.
He was a U.S. Army veteran of World War II,serving as a a corporal in the medical division in Europe. He received the Good Conduct Medal, European African Middle Eastern Theatre Campaign Ribbon and the Victory Medal.
He was employed by Brown Company and James River Corporation for 34 years, retiring in 1982. He was a life member of the Fraternal Order of the Eagles and a member of the VFW Post 2520. He loved to "fly fish" along the upper Androscoggin River and South Pond, "ice fish" on Umbagog Lake and Conway Lake and hunt in the Kilkenney Range. After his retirement, he enjoyed driving along country roads with his wife, Mary, spending time with his family, watching the Red Sox, and playing cards.
Family members include three sons, Paul Kluchnick Jr. of Berlin, Luther Kluchnick and Alexander Kluchnick, both of Gorham; a daughter, Loree Pike of Gorham; five granddaughters; sisters and brothers, Vera Barbin of Whitefield, Mildred Dupuis of Groveton, Mary Jewels of Virginia, Elizabeth Forestall, William Litvin and Robert Litvin of Berlin; many nieces, nephews and cousins. He was predeceased by his wife of 49 years Mary Loretta (Roy) Kluchnick, his daughter Wanda Gagnon Brien and his stepfather Roman Litvin.
SERVICES: Funeral services will be Saturday at 11 a.m. at the Orthodox Church of the Holy Resurrection on Petrograd Street in Berlin. Interment will be in the Russian City Cemetery in Berlin following the services. Relatives and friends may call at the Bryant Funeral Home, 180 Hillside Avenue in Berlin on Friday from 7 to 9 p.m. Memorial donations may be made to Orthodox Church of the Holy Resurrection. For more information visit go to bryantfuneralhome.net.
Page: 06