In Memory
Robert Winton Learn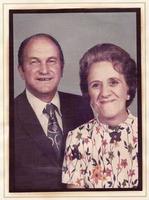 Robert Winton Learn
Patient of
304th Station Hospital
29 Sep 1914 Thornhurst, Pennsylvania
11 Oct 2008 Wilkes-Barre, Pennsylvania
Times-Tribune, The (Scranton, PA) - Monday, October 13, 2008
Robert W. Learn, 94, a lifelong resident of Thornhurst Twp., died Saturday evening in the Golden Living Center, Plains Twp. His wife of 50 years, the former Julianna M. Gregorsky, died Jan. 10, 2000.
Born Sept. 29, 1914, in Thornhurst, son of the late Ammi and Cora Oliver Learn, he attended the one-room schoolhouse in Thornhurst. An Army veteran of World War II serving in the 79th Division, he was wounded in France at the Battle of St. Lo and he received the Purple Heart. He was also awarded the Good Conduct Medal, European-African-Middle Eastern Service Medal with one Bronze Star and the American Theater Service Medal. Before retirement, he was employed by the Tobyhanna Army Depot. He was a member of Thornhurst United Methodist Church.
During his lifetime, he was very active in numerous organizations. He was a member of the Thornhurst Fire Company, Moscow American Legion Post 579, Disabled American Veterans and was a volunteer for the Federal Food Give Away and the annual Thornhurst Twp. road clean-up. He never failed to help his fellow neighbor and was an avid outdoorsman.
Surviving are several nieces and nephews.
He was also preceded in death by two brothers, Ralph and Ellory Learn.
The funeral will be Thursday at 11 a.m. in the Brian Arthur Strauch Funeral Home, Route 690 and First Street, Spring Brook Twp., with Rev. Ronald W. Onder, pastor of Thornhurst United Methodist Church, officiating. Interment with military honors in Fairview Memorial Park, Elmhurst.
Friends may call Wednesday, 4 to 7 p.m. Memorial contributions may be made to the Thornhurst United Methodist Church, River Road, Thornhurst, 18424. To leave an online condolence, visit www.strauchfuneralhome.com.
Times-Tribune, The (Scranton, PA) - Monday, October 13, 2008