In Memory
Joseph Charles Raymond Letourneau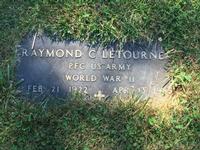 Joseph Charles Raymond Letourneau
Private First Class
304th Station Hospital
21 Feb 1922 Taunton, Massachusetts
13 Apr 1985 Fall River, Massachusetts
Providence Journal (RI) - Wednesday, April 17, 1985

Raymond C. Letourneau, 63, of 497 Milford Rd., a meatcutter, died Saturday at Charlton Memorial Hospital. He was the husband of the late Beatrice A. (Marquis) Letourneau.
Born in Taunton, a son of the late George and Hattie (Sawyer) Letourneau, he moved to Swansea in 1950.
Mr. Letourneau worked for the New England Poultry Co. Before that he worked for Stop & Shop in Somerset for 18 years. He was a founding member of the Bible Speaks Church.
He leaves two sons, Donald Letourneau of Rochester and Will Letourneau of Pomona, Calif.; two daughters, Janice Shelton of Tiverton and Ramone Arruda of East Providence; several brothers and sisters, and 11 grandchildren.
A funeral service will be held today at 10 a.m. at the Bible Speaks Church, Sharpes Lot Road. Burial will be in Mount Hope Cemetery.