In Memory
Ernest Julius Mangarelli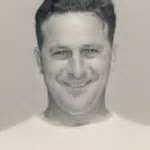 Ernest Julius Mangarelli
Private
304th Station Hospital
7 Sep 1915 Paterson, New Jersey
20 Jan 2013 Hawthorne, New Jersey
Hawthorne — Ernest Julius Mangarelli, 97, died Jan. 20.
Born and raised in the Riverside section of Paterson, he lived in Hawthorne for the past 45 years. He served his country as a medic in the Army during WWII. After the war, he worked in the Paterson textile industry. He was a member of the Riverside Vets and was an avid golfer, working as a starter at the Passaic County Golf Course.
He was the husband of the late Teresa Mangarelli (2009); uncle of Debra Rugel of Hawthorne; great-uncle of Peter J. Rugel Jr. of Hawthorne; and great-great uncle of Mary Rugel.
Funeral was Jan. 23 with entombment at Calvary Cemetery Mausoleum, Paterson. Arrangements by Browning-Forshay Funeral Home, Hawthorne.

Published in The Gazette on Jan. 30, 2013