In Memory
Eleanor G McDonald (Sullivan)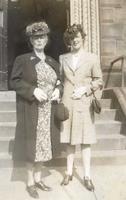 Eleanor G McDonald Sullivan
Nurse
304th Station Hospital
20 Oct 1911 Monson, Massachusetts
1 Oct 1990 Springfield, Massachusetts
Eleanor G. Sullivan, longtime area nurse
Union-News (Springfield, MA) - Wednesday, October 3, 1990
Eleanor G. (McDonald) Sullivan, 78, of 113 Audubon St., Springfield, a retired nurse, died on Monday in Baystate Medical Center.
She did private-duty nursing at Mercy Hospital, Wing Memorial Hospital in Palmer, Noble Hospital in Westfield, Boston Children's Hospital, and the former Springfield Hospital, now a part of Baystate Medical Center.
She was an Army veteran of World War II, and served from 1943 to 1945 as an orthopedic nurse in Europe.
From 1946 to 1947, she did social work for the city of Springfield, and from 1948 to 1951 she worked in the surgical unit of the old Wesson Memorial Hospital, also a part of Baystate Medical Center.
She was an industrial nurse at Monsanto Chemical Co. from 1957 to 1961, at Milton Bradley Co. from 1961 to 1962, and at Diamond Match Co. from 1966 to 1969.
From 1962 to 1964, she worked at the Springfield Municipal Hospital, and from 1964 to 1966 was a charge nurse in the surgical unit at Ludlow Hospital. She was also the director of nursing at the Spruce Manor Nursing Home from 1969 to 1972.
She retired 16 years ago after a 39-year nursing career.
Born in Monson, she lived in Springfield most of her life. She was graduated from the Mercy Hospital School of Nursing.
She was a communicant of St. Paul the Apostle Church.
Her husband, Joseph P. Sullivan, died in 1962.
She leaves two sons, Thomas J. of Springfield and John M. of Wilbraham; two daughters, Patricia E. Nolan of Springfield and Mary E. Schmitt of Michigan, and eight grandchildren.
The funeral will be Thursday morning at Hafey Springfield Chapels and the church, with burial in St. Michael's Cemetery. Calling hours are this afternoon and evening.
Memorial contributions may be made to the Friends of the Sisters of St. Joseph, Mont Marie, Holyoke, 01040.