In Memory
John Vincent Quigley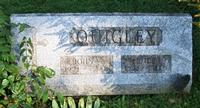 John Vincent Quigley
Tech 5
304th Station Hospital
6 Nov 1921 Skaneateles Falls, New York
28 Sep 2006 Skaneateles, New York
JOHN VINCENT QUIGLEY
Post-Standard, The (Syracuse, NY) - Saturday, September 30, 2006
September 28, 2006
John Vincent Quigley, 84, of Skaneateles, died Thursday, September 28, 2006. Born in Skaneateles Falls, he had been a senior investigator for the NYS Attorney General's office. He was a communicant and a past religious education teacher at St. Mary's of the Lake Church in Skaneateles. He was a U.S. Army veteran of World War II, a member of the Valentine Meyer American Legion Post 317 in Skaneateles Falls and the AOH in Auburn. His wife Ethel died in 2005.
Surviving are children, Michael (June) Quigley of Auburn, Terry Quigley of Albany, Pat (Donald) Cleaver of Auburn, John Quigley of Skaneateles, Chris (Kathy) Quigley of Rochester, Peg (Bob) Dienhoffer of Sempronius and Maureen Quigley-Klueber of Syracuse; 11 grandchildren; one great- grandchild; and many special friends of Bill W.
Services will be held 9 a.m. Tuesday at the Robert D. Gray Funeral Home, Skaneateles, and at 9:30 a.m. in St. Mary's of the Lake Church. Burial in St. Mary's Cemetery. Calling hours are Monday 2 to 4 and 6 to 9 p.m. at the funeral home, 49 Jordan St.
Contributions may be made to SAVES.