In Memory
Joseph William Viltrakis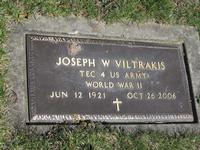 Joseph William Viltrakis
Tech 4
304th Station Hospital
12 Jun 1921 Bellshill, Lanarkshire, Scotland
26 Oct 2006 Syracuse, New York
Post-Standard, The (Syracuse, NY) - October 29, 2006
Deceased Name: VILTRAKIS Joseph W. Viltrakis October 26, 2006
Joseph Viltrakis 85, of Syracuse, died Thursday. Born in Bellshill, Scotland he served in WWII and worked as a painter at Salina Motors and Dave Ball Chevy. He was a communicant of Holy Family Church and was predeceased by a son Donald.
Survived by his wife of 56 years, Doris (Brotherton); a daughter, Marie (Kevin) Viltrakis-Taylor; a granddaughter, Heidi Vann; three great-grandchildren Jacoby, Jada and Nicole.
Calling hours are Noon to 1 p.m. Monday at B.L. Bush & Sons, 10 Genesee St, Camillus with a funeral Mass at 1 p.m. at Holy Family Church. Burial will be in Greenlawn Cemetery.
Please sign his guestbook at www.BLBUSH.com B. L. BUSH & SONS, INC. 672-3400
Edition: Final
Page: B4