In Memory
Joseph Charles Vitale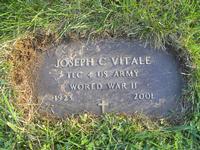 Joseph Charles Vitale
Private
304th Station Hospital
21 Sep 1923 Camden, New Jersey
13 May 2001 Flemington, New Jersey
Joseph C. Vitale died at the Hunterdon Medical Center at the age of 77.
Born in Camden to Michael and Anna Panico Vitale, he moved to Lambertville as a child. He had been a Stockton resident for 38 years.
He worked at Joseph A. Finkle and Sons Hardware in Lambertville for 40 years before retiring 10 years ago.
He was a veteran of World War II, serving in Europe with the U.S. Army Medical Corps. Mr. Vitale was a member of the Veterans of Foreign Wars post in Lambertville.
He was a member of St. John the Evangelist Church in Lambertville.
His wife, Helen Theresa Pascatore Vitale, and a daughter, Kathleen Vitale, died previously.
He is survived by a daughter, a son, two sisters, Carmella Mildred Rock of Lambertville and Elizabeth Cannulli of Orlando, Fla.; and two grandchildren.
His obituary was published in the Hunterdon County Democrat on May 17, 2001.