In Memory
Richard George Whelan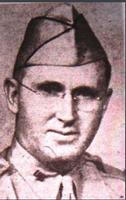 Richard George Whelan
Chaplain
304th Station Hospital
1 Feb 1898 Albion, New York
30 Jun 1946 Batavia, New York
Rev. Richard Whelan served in the First World War as a corporal in the Marine Corps before he was ordained a priest, then served in the Second World War as Chaplain of the Army Air Forces in England, Scotland, France, Belgium and Germany. He held the rank of Major at the time of his discharge in 1945.
Father Whelan lived in Albion, New York as a boy and studied for the priesthood at Niagara University and Our Lady of the Angels Seminary following discharge from the Marine Corps at the end of the World War I. He was ordained in 1927. When the Veterans Hospital in Batavia was opened in 1934, Father Whelan was appointed Catholic Chaplain, and remained there until he joined the Army. He returned to this post after his discharge. He was 48 years old when he suffered a heart attack while playing Golf.
His funeral Mass was held in St. Anthony Church in Batavia.
Note: funeral:St. Anthony Church in Batavia.