In Memory
Sharrai Gayle Wilson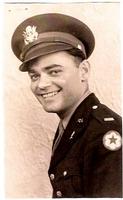 Sharrai Gayle Wilson
Bacteriologist
304th Station Hospital
7 Apr 1916 Terre Haute, Indiana
15 Aug 2000 Wichita, Kansas
Sharrai (aka Shoria) Gayle Wilson was born in Terre Haute Indiana to Commodore Lawson Wilson, a coal miner, and Frances Ellen Smith Wilson, the youngest of five children. Gayle's older brothers and sisters were John Minnich, Edna Esther Fay, Perry William and Honor Margaret Wilson. Gayle was orphaned at age 14 and was cared for various family members. He graduated from West High School in Madison, Wisconsin in 1933 while living with his brother, Perry, a professor of microbiolgy and biochemistry at the University of Wisconsin.
In 1937 Gayle graduated from Indiana State Teachers College with a Bachelor of Science degree in biology and received his Master of Science degree in bacteriology from Virginia Polytechnic University in 1939.
After graduation from VPI he worked as a bacteriologist for the Kansas State Board of Health in Topeka, Kansas (1939 - 1942). In 1942 he was drafted into the Army and underwent basic training at Camp Funston at Fort Riley, Kansas. At some point in 1942 or 1943 the Army decided that Gayle would better serve the war effort as a bacteriolost and was promoted to second lieutenant and assigned to the 304th Station Hospital.
After the war Gayle worked at the Kansas State Board of Health and the Centers for Disease Control as a bacteriologist, the Michigan State highway Department as a laboratory technician, the Detroit Institute of Technology as a mathematics teacher, the Fort Scott Kansas High School and Junior College as a chemistry and physics teacher and for the Wichita - Sedgwick County Health Department as a microbiologist from which he retired in 1978.
In December 1941 Gayle married the former Ollie Iren Stone (1913 - 1991) in Lawrence, Kansas. They had one son, Terry Gayle who passed away in 1986. In April 1947 he married the former Frances Alberta Hamler (1921 - 1983). They had three children - John David, Margaret Ann and Tony Gayle. Gayle's descendants include three grandchildren and three great grandchildren.