In Memory
Abraham Alvin Wolf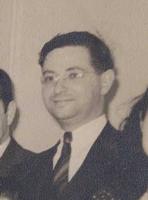 Abraham Alvin Wolf
Medical Officer
304th Station Hospital
17 Oct 1911 Colchester, Connecticut
1 Jun 1998 Arlington Heights, Illinois
Daily Herald (Arlington Heights, IL) - Tuesday, June 2, 1998
Services for A. Alvin Wolf, M.D.
86, of Northbrook, will be held at 10 a.m. Wednesday, at Weinstein Family Services, 111 Skokie Blvd., Wilmette.
Born Oct. 17, 1911, in Colchester, Conn.,he died Monday, June 1, 1998, at Northwest Hospital Continuing Care in Arlington Heights. Entombment will be in Shalom Memorial Park, Arlington Heights.
A pediatrician, he practiced on Broadway Avenue in Chicago. He was a graduate of Northwestern University Medical School class of 1935, assistant clinical professor at University of Illinois from 1939 to 1984, on staff at Northwestern University Prentice Pavillion-Children's Memorial, Walter Memorial Chief of Pediatrics from 1946 to 1986, a major in the Army from 1943 to 1946 and a member of the AMA, American Academy of Pediatrics and American College of Allergy.
He was the husband of the late Sylvia; father of Stuart (Rona) Wolf and Lynda (Milton) Erickson; brother of Elsie Friedson and the late Sara Gilbert and Rose Wolf; grandfather of Amy, Suzanne, Lisa, Sam, Rebecca, Rachel and Milton; and great-grandfather of Miranda and Paige.
Visitation will beat the time of services.
Memorials may be made to Congregation Beth Judea, 5304 R.F.D., Long Grove, IL 60047.
For information, (847) 256-5700.

DR. ALVIN WOLF, PEDIATRICIAN
Chicago Tribune (IL) - June 3, 1998
Dr. Alvin Wolf, a Chicago pediatrician for 60 years who practiced into his 80s and saw second and third generations of patients, died Monday in Northwest Community Hospital Continuing Care Center in Arlington Heights. A longtime resident of Lincolnwood and Northbrook, he was 86.
Shortly after graduating from Northwestern University Medical School in 1935, Dr. Wolf established a practice in the Uptown neighborhood on Chicago's North Side. He maintained it until his retirement in 1995. He also was an assistant clinical professor at the University of Illinois from 1939 through 1984, and the chief of pediatrics at Walther Memorial Hospital on the West Side from 1946 through 1986.
"He was phenomenal," said Alice Pawlicki, who saw Dr. Wolf as a child and sent her children to him. "When I found out he was ill, I think I cried almost as hard as when my father passed away."
Former colleagues of Dr. Wolf's said he had an unusual level of empathy for his patients. He enjoyed making as many as 22 house calls a day early in his career because he felt you learned a lot about a family's needs by sitting down with them at the kitchen table. He made house calls into his 70s.
Dr. Wolf attended continuing education seminars and always kept a fast-paced, heavy workload until he retired.
Dr. Wolf saw many of his patients move to the suburbs over the years, but he never moved his practice out of Chicago. And so many of his patients continued coming to him, including Pawlicki who lived in Lincolnwood. "He's the last of a breed," she said.
Dr. Wolf's wife of more than 50 years, Shirley, died in 1991. Survivors include a son Stuart; a daughter, Lynda Erickson; seven grandchildren; two great-grandchildren; and a sister, Elsie Friedson. Funeral services will be held at 10 a.m. Wednesday in Weinstein Family Service Wilmette Chapel, 111 Skokie Blvd., Wilmette.