In Memory
Arthur Harry Buchman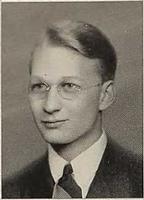 Arthur Harry Buchman
Second Lieutenant
304th Station Hospital
18 Feb 1915 Cincinnati, Ohio
19 Mar 2009 Port Charlotte, Florida
Charlotte Sun (Port Charlotte, FL) - Tuesday, March 17, 2009
94, of Port Charlotte, Fla., passed away Sunday, March 15, 2009, at Lexington Manor in Port Charlotte.

He was born February 19, 1915 in Cincinnati, Ohio to Harry Nicholas Buchman and Frances (Steppler) Buchman.

Arthur lived a full and very productive life. Art, as he was fondly referred to, made some very positive contributions to the betterment of society in his lifetime. After graduating from college at the University of Cincinnati, he enlisted in the U.S. Army during WWII, became a Lieutenant upon graduation from Officers Candidate School (OCS), in the Army Medical Corp. where he served his country and was honorably discharged at the end of the war. He then became a licensed mortician before working in the family automobile business for fifteen years. He began a new career with the U.S. Dept. of Labor as an investigator and worked his way up to regional supervisor and mentor for the Labor Department in South Eastern Michigan.

A long-standing member of NARFE, the Masons, Shrine and the Scottish Rite, Art retired in 1980 and moved to North Port, Fla. to be near his son. He and his wife, Marion enjoyed their home, gardening and their dog Tipper. He will be greatly missed by friends and family.

Surviving is his son; Arthur H. (Marie) Buchman Jr. of Port Charlotte; three granddaughters, Julie (nee Buchman) (Stefan) Antochi, Jill (nee Buchman) (Greg) Zaiser, and Jennifer (nee Buchman) (Craig) Lawson; and one great-granddaughter; son, Darryl S. (Dalene) Buchman of Jerome, Idaho; two granddaughters, Livia Buchman and Lisa Buchman; and two great-grandchildren; nephews and nieces, Jimmy and Goldie Jobe of Englewood, Fla., and their mother, Thelma Jobe and Paul and Jean Buchman of Cincinnati, Ohio. Art was preceded in death by his wife, Marion in 1999; brother, Paul N. Buchman; and sister, Grace (Buchman) Jones.

Friends are invited to call and celebrate Art's life from 2 p.m. to 4 p.m. and 6 p.m. to 8 p.m. Wednesday, March 18, 2009 with services to be held Wednesday at 7 p.m. at Farley Funeral Home in North Port, Fla. A graveside service will be held in Ohio. To send condolences visit www.farleyfuneralhome.com.

Our family would like to extend a very warm and appreciative THANK YOU to all friends and family that made Art's last days with us a comfortable and peaceful transition. May GOD bless each and every one of you.

Arrangements are by Farley Funeral Home and Crematory.