High School Years
Celina High School
"An Old Kentucky Garden" Operetta - March, 1957

1956-57 Concert Band
Annual Spring Concert - April 26, 1957
Christmas Music Program - December 16, 1957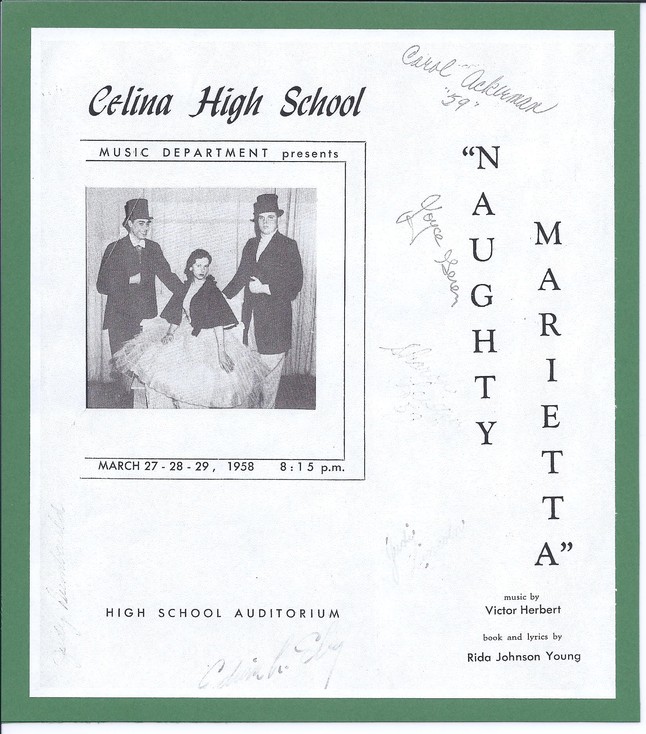 "Naughty Marietta" - March, 1958
Annual Spring Concert - May 1, 1958
Pops Concert - May 9, 1958
Junior Class Officers Best Liked Juniors
Margie Riley - Treasurer Jim Grimm
Bob Fast - Secretary Sonie Clapp
Dave Gaw - President
Jim Grimm - Vice President
Reserve Basketball Team, 1958-59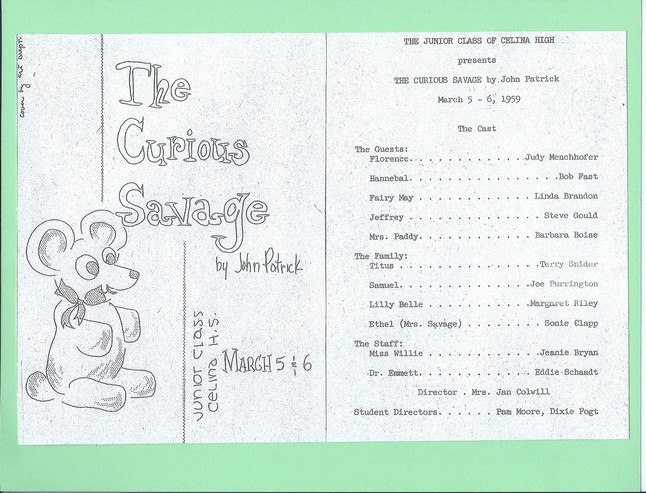 Junior Class Play - March, 1959
Music Production, March 19-21, 1059
Annual Spring Concert - April 24, 1959
Pop's Concert - May 1, 1959
Dance Band at Pop's Concert - May 1, 1959
Scholarship Honor Banquet - May 5, 1959
National Honor Society - Junior Members
Row 1: Joan Linton, Katie Adams, Jill Dull
Row 2: Wayna Mercer, Rita Fox, Pam Moore, Margaret Riley, Jone Stauffer
Row 3: Gloria Kohler, Julie Cordier, Sonie Clapp
Top Row: Eddie Schaadt, Peter Carman
1958-59 F.T.A.
Mrs. Shafer, Advisor
1958-59 G.A.A.
Mrs. Silver, Advisor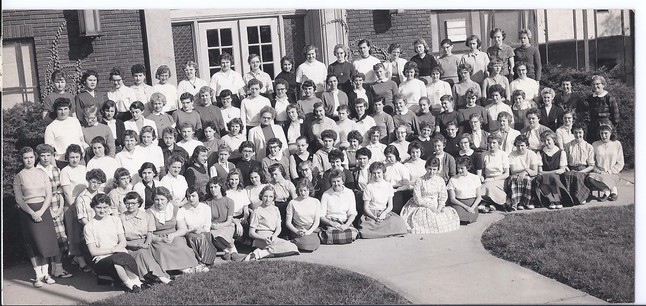 1958-59 Joy Teens
Mrs. Silver and Miss Christian, Advisors
1958-59 T.C.R.
Junior/Senior Prom - May 22, 1959
"Fantasy in Blue"
King: Larry Frahm and Queen: Sharon Hines
Celina High School Marching Band
Peony Parade, Van Wert
June, 1959
MYF Trip to Washington, D. C. - June, 1959
St. Paul Methodist Church
Row 1: Rev. Stanley Benton, Gloria Kohler, Pam Moore, Linda Duerr, Linda Freewalt, Lois Geist, Jill Dull, Shirley Duerr, Ohio U.S. Rep. William M. McCulloch
Row 2: Mrs. Oran Monroe, Janet Moore, Jone Stauffer, Mrs. Gerald Fogt, Dixie Fogt
Row 3: Judy Fogt, Dr. George McIlroy, Tom Hehmeyer, Mike Gant, Harold Slusser
Row 4: Scott Bell, Monty McIlroy
Row 5: David Mielke, Rick Whetstone, Ed Bishop
Row 6: Tom Schelich
Senior Class Play, November 19-20, 1959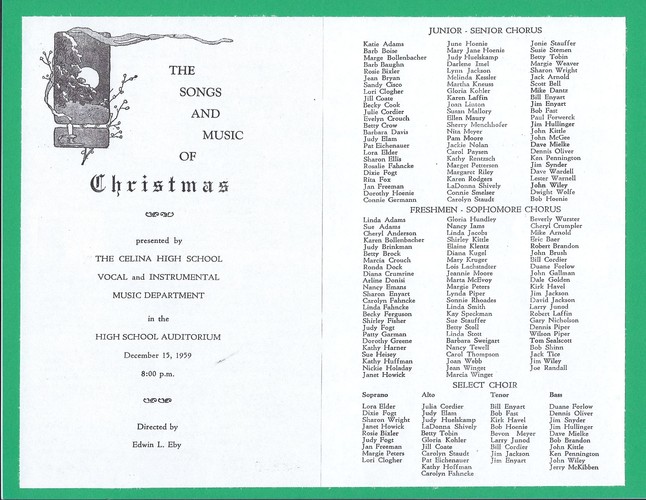 Christmas Concert - December 15, 1959
"Annie Get Your Gun" - April 1-2, 1960
Cast of Characters and Musical Numbers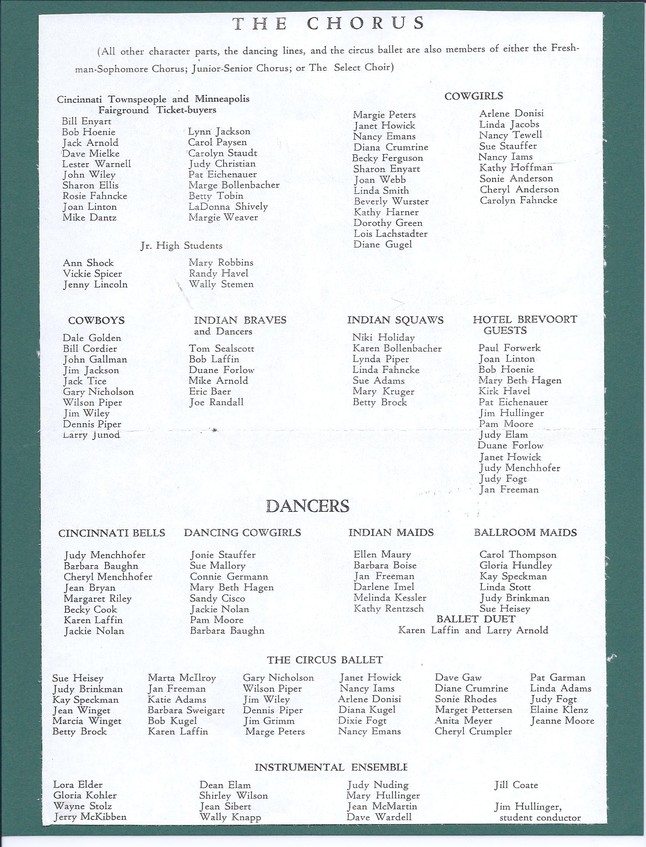 Chorus, Dancers, Instrumentalists for "Annie Get Your Gun"
Edwin Eby, CHS Band and Music Director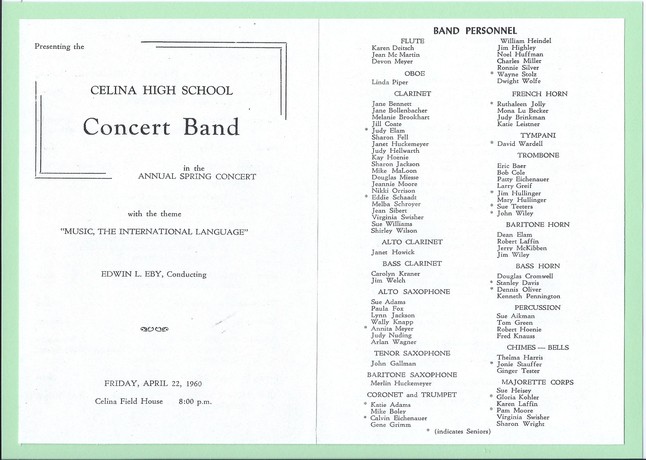 Annual Spring Concert - April 22, 1960
Lions Club Honor Banquet - May 3, 1960
CHS and IC Lions Club Honorees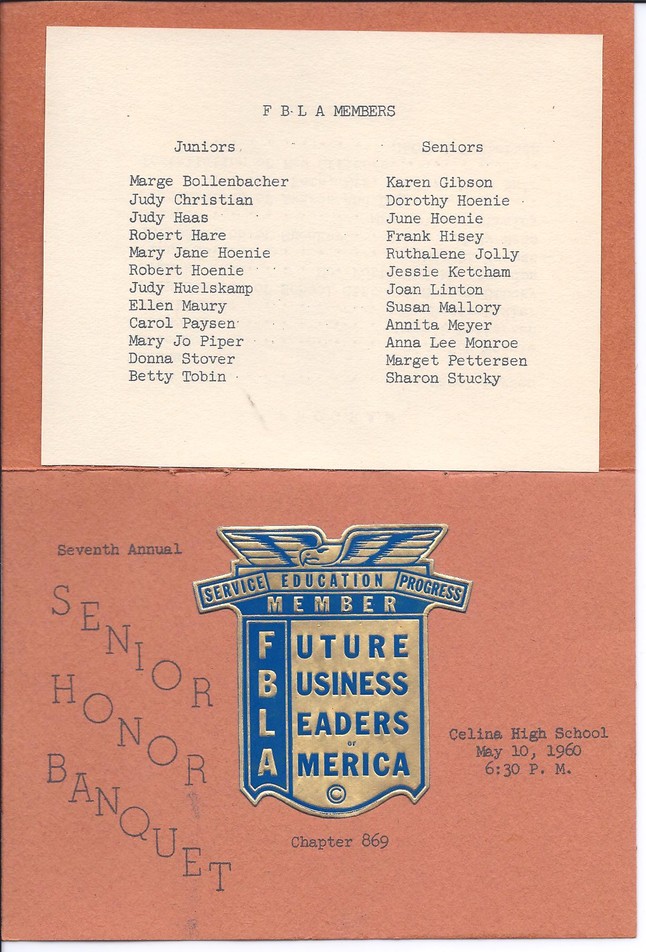 FBLA Senior Honor Banquet - May 10, 1960
National Honor Society Reception for Seniors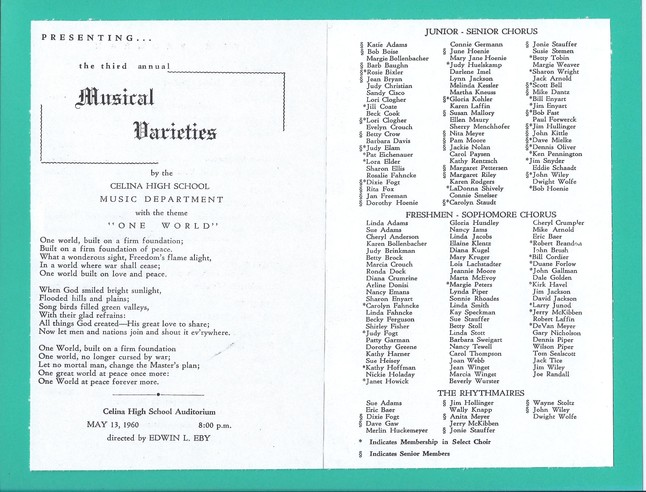 Musical Varieties - May 13, 1960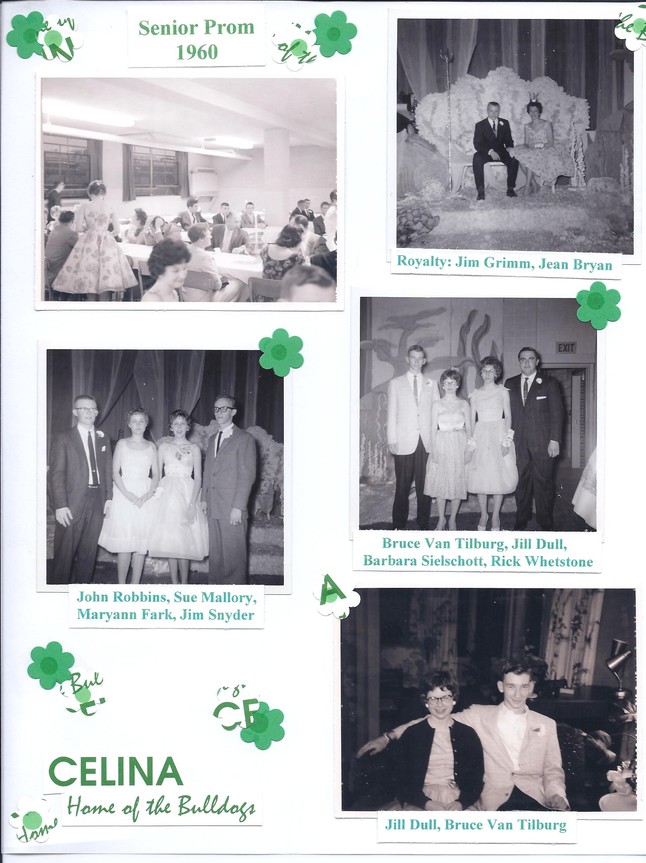 Junior-Senior Prom - May 20, 1960
"Underwater Paradise"
King: Jim Grimm and Queen: Jean Bryan
Music by The Mel Honey Orchestra
CHS Graduation Announcement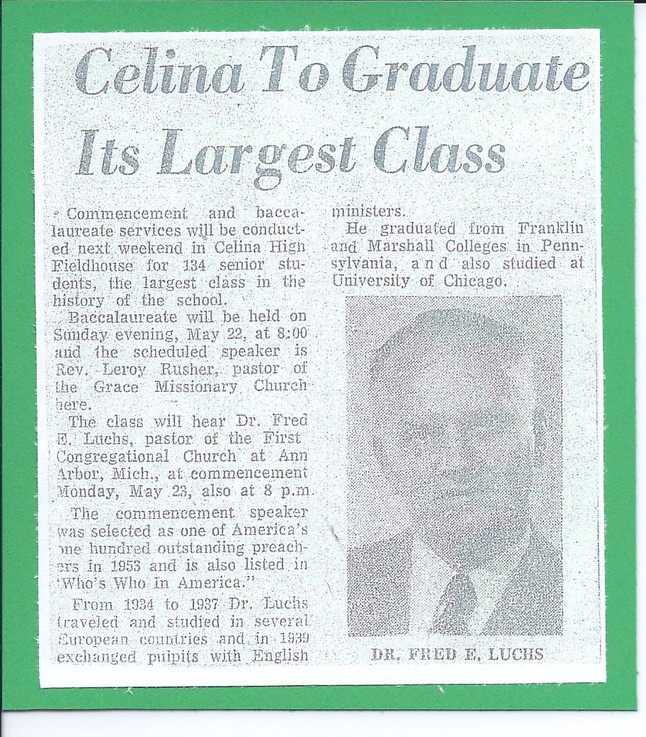 CHS Class of 1960 - 134 Graduates
Largest Class in the History of the School
If any classmates have pictures or articles they wish added to the website, please send them via email to Jone or Stan.
Thank You!