New Trier

High School




Class Of 1963
Welcome to the New Trier Class of 1963 web site!

NEWS! OUR 60TH REUNION IS
OCTOBER 27-29, 2023

CLICK ON THE NT CLASS OF 1963 - 60TH REUNION
top of left column
And REGISTER!!
Make payment by mail or PayPal (credit card) to
Sue Walker
777 Custer Road, Unit 8-1
Richardson, TX 75080
or PayPal
Sue Walker @NewTrier63website

IF you are having trouble logging on -
send me an email suewalker4@yahoo.com
that you plan to attend and which activities:
1. Friday night gathering 5-7pm cash bar at Hackney's on Lake $25/pp,
2. Saturday NT tour 10am
3. Saturday dinner at Skokie Country Club
5-6pm welcome - 6-9pm Dinner cash bar, $85/pp
casual dress (no jeans-club policy)
4. Sunday brunch - 10am location TBD
REUNION RSVPs as of 09/03/23
Joan Barnett Perlstein
Don Behm
Chuck Bernstein
Sheilah Bernstein Gross
Patty Butow McKinnis + Guest
Barb Citron Pinto
Betsy Cohen
Pete Diltz
TJ Dunn
Lynn Edmonds Epstein
Lexi Fitchmun Taylor
Julie Garcia Shea
Loren Gastwirth
Sue Giallombardo Walker
Karen Goldberg Sachs
Nancy Gore Marcus
Rich Holdredge
Nancy Horwitz Kahn
Karen Kart Wander
Bob Keitel
Howard Klee
Janie Korff Beller
Joanne Krause Bernstein
Brad (Steve) Lazzara
Jeanne Magill
Ruth Metz Freer
Sue Minter Oates
Mindy Nix
Barb Pritchard Baker
Tom Safran
Rich Schneider
Mary Seifert
Paula Snorf Henderson
Debbie Stephens Montgomery
Allan Stern + Susan Scrimshaw
Walt Stringfellow
Barry Tauber
Roberta Trocky



We continue to maintain this site for the interest and convenience of all classmates who want to keep in touch.
Create your own profile - or UPDATE YOUR INFORMATION
Find other classmates
Post photos and see what pictures other classmates have shared.
If you are in touch with others from our Class of 1963, please let them know about the website and encourage them to add their information - as little or as much as they want to include.

Reminder: only our 1963 classmates have access to this site. Your information is not visible to the general public.
I will be updating this website from time to time. Thanks to the generous support of 20 classmates, the website has been renewed through 2024. and will keep going as long as there is interest and support, so that everyone can continue to keep in touch.

If you have any problems entering or changing your information or password, please email Sue Giallombardo Walker at suewalker4@yahoo.com


Here is Group 1 Class photo taken at the Reunion.
You can also see it by clicking on the this Class Photo link .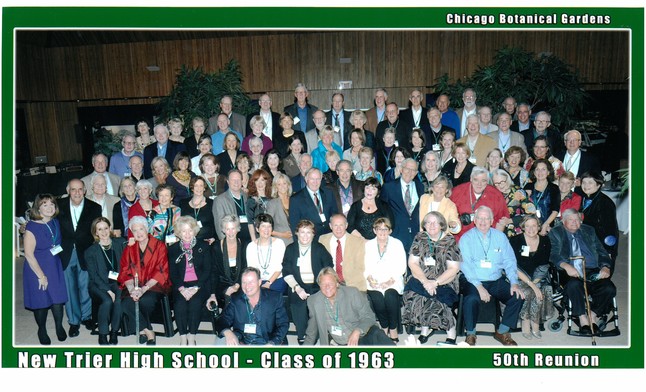 Classmates have posted photos from the reunion on the Gallery- reunion photos link on the left hand side.
Enjoy the site and please let me know if you have
comments or suggestions.
---
I'm happy to help upload pictures, stories or articles.
Email them to me Sue G Walker suewalker4@yahoo.com
---
New Trier Fight Song #1
Here's to our team, we're the Green and the Gray.
Here's to our old New Trier.
Long may her name be cherished for her fame
Loyal and ever true, whatever she may do.
Fighting to win is the Green and the Gray.
And may she never fail.
Proudly wave the banner for our school,
Rah, Rah for old New Trier.
Dum, da, dum, da da dah – Yea New Trier (let's fight!)
Dum, da, dum, da da dah – Yea New Trier (let's fight!)
Rah, Rah, Rah, Team (let's fight!)
Rah, Rah, Rah, Team (let's fight!)
Rah, Rah, Rah, Team, Let's fight, fight!
(back to beginning)
ANNOUNCEMENTS
Here's some recent news about our classmate Karen Malpede. When you see what she's been up to, you will understand her preoccupation with her work. She's still going strong!
https://www.broadwayworld.com/article/Beth-Malone-George-Bartenieff-and-More-to-Star-in-Reading-of-OTHER-THAN-WE-20200706
Karen Malpede Theater Three Collaborative 718-789-5404/ 718-812-9442 (c) www.theaterthreecollaborative.org
Plays in Time: The Beekeepers Daughter, Prophecy, Another Life, Extreme Whether Other Than We, Laertes Books, Egret Acting Editions Acts of War: Iraq & Afghanistan in Seven Plays