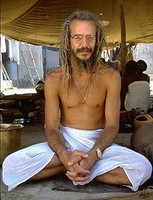 I remember a discussion on religion with Fr Vogel. "Which religious belief is right?" It was one of the lessons I tried to follow through life. "If anyone practices their religion to the fullest and believes in it to the fullest, then how are we able to judge them?" It gave me a better respect for some and a lesser respect for those who would tell me I was wrong to dance, drink a beer, etc.
Ray decided on a religious and spiritual life path that, to many of us, would seem totally in opposition to some of our beliefs. But, to his credit, it appears that he never strayed from his beliefs even with all the pressures around him. Agree with him or not, he endured many hardships to follow his path.
In the photo, you see Ray after his change to Charan Das.
John T.