In Memory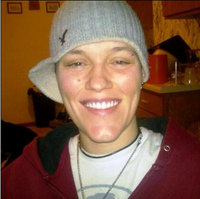 Marilyn Mae Bendler, 33, of Ashley passed away Friday morning February 1, 2013 at her residence surrounded by family and friends.

She was born December 11, 1979 in Delaware and lived all her life in the Delaware area.

She had worked at PPG Manufacturing in Delaware before becoming a bartender at Gibeye's in Ashley. She loved music, dancing, fishing, singing, and cooking especially Mexican food and spending time with her kids playing football and baseball. She also enjoyed date night at Vaquero's followed by a movie and dancing with her wife.

Left behind to cherish her memory are her loving wife, Laura Bradley-Bendler; sons, Christopher and Dillon Santillan at home; daughter, Elizabeth Santillan at home; mother, Lila Bendler of Delaware; sister, Ida (John) Gardner of Delaware; lifelong friend, Tina Caudill of Waldo and her mother Shirley Hall of Marengo; mother-in-law, Jeannetta Bradley of Hubbard; numerous brothers and sisters-in-laws, nieces, nephews, cousins, aunts, uncles, and a host of friends. She was preceded in death by a son Johnathon Santillan, stepfather John Kanniard, and maternal grandparents Marilyn and Paul Darst.

The family will receive friends on Tuesday February 5th from 1 – 3 pm at the Snyder-Rodman Funeral Center, 1510 W. William Street at Valleyside Drive, Delaware. Celebration of Life services will follow at 3:00 pm and burial will be in Ashley Union Cemetery.

Contributions in her memory may be made to the funeral home to assist with expenses.

The Snyder-Rodman Funeral Center is honored to serve Marilyn and her family and condolences may be expressed and memories may be shared by visiting www.snyderfuneralhomes.com
From Obituary of Marilyn Mae Bendler
Courtesy of Snyder Funeral Homes
Click here to see Marilyn Mae's last Profile entry.