Thornridge High School Track & Cross Country Alums

Photo Gallery
Cecil Robinson at the 1995 California Police Olympic Games
1972 - Chris Loring winning the 440 vs. Richards with John Faller in 3rd. Loring had the 2nd fastest 880 ever recorded at TR with a 1:52.2 second to Dave Kaemerer's 1:50+. Chris died in an automobile accident in the late 1980's
1972 - Bob Moffett enroute to his 9:21 2-mile school record vs Richards H.S. Greg Galen is in 4th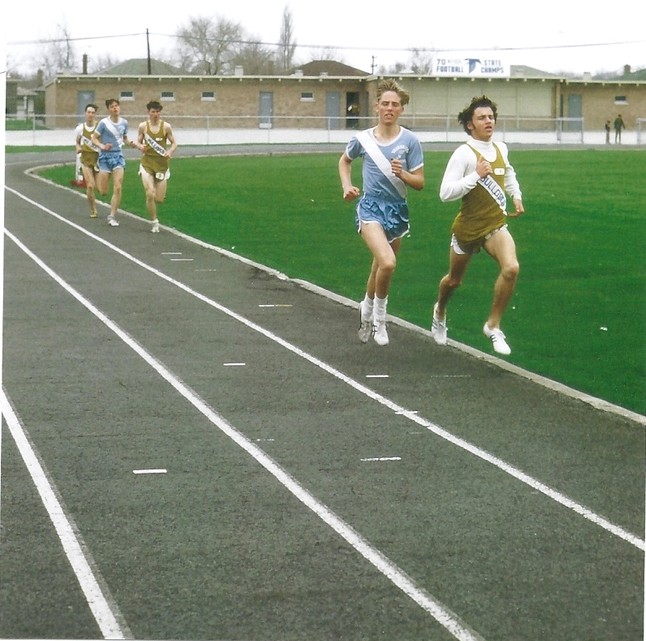 2008 Wampum Lake Turkey Trot
(left to right):
Jeff Hall, Mike Prizy, Eamonn Prizy, Mike Kirk, Evan Prizy, Jim Kirk, Connor Prizy, Jim Duncker, Ben Duncker, Larry Kane, Jeff Wagner, Matt Piescinski, Manny Perryman, Perry Asauskas, Steve Asauskas, Charlie White(TT).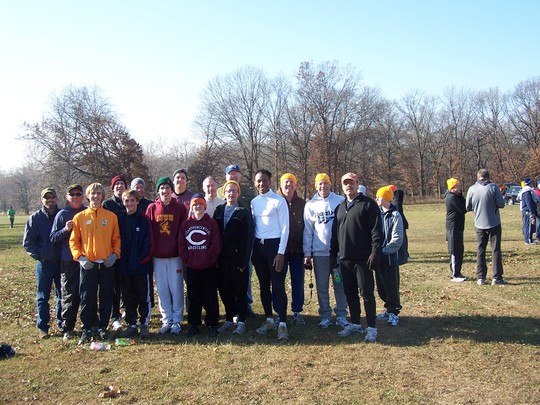 2002 Wampum Lake Turkey Trot
(left to right):
Mike Sullivan, Bruce Hall, Cliff Hall, Jeff Hall, Mike Kirk, Nick kirk, Jim Duncker, Mike Prizy, Larry Kane.
2002 Wampum Lake Turkey Trot
(left to right):
Bruce Hall, Matt Sullivan, Manny Perryman, Mike Sullivan, Mike kirk, Nick Kirk, Cliff Hall
What a sub-9:00 3200m while wearing a turtle-neck, looks like... (1980)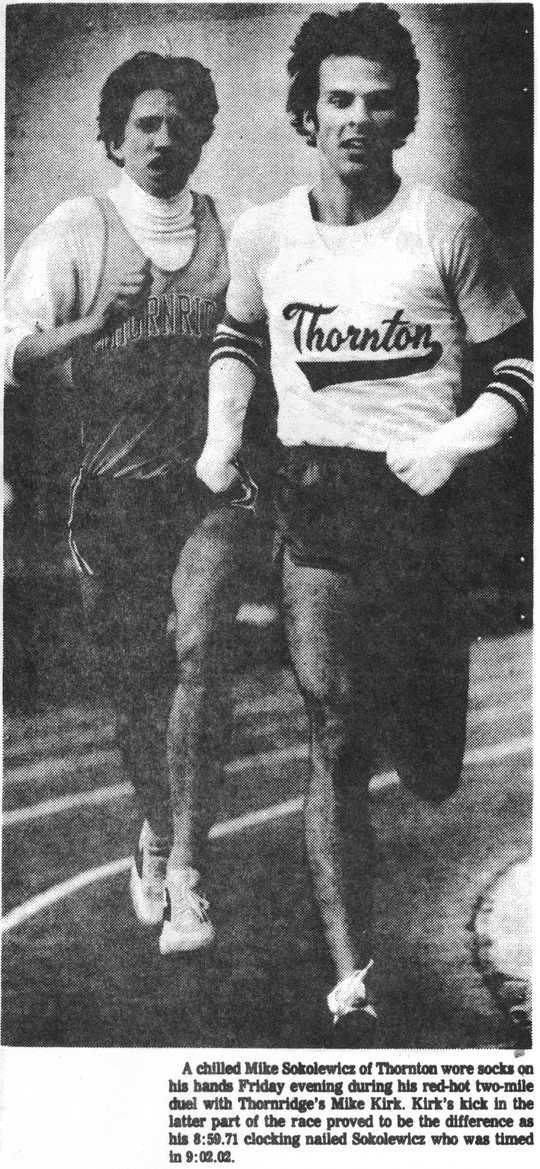 1979 XC Team at Detweiller before taking 3rd place
Mike Sullivan, Dave Rickert, Mike Kirk, Craig Cappelo, Cliff Hall, Perry Asauskas (missing Larry Young...)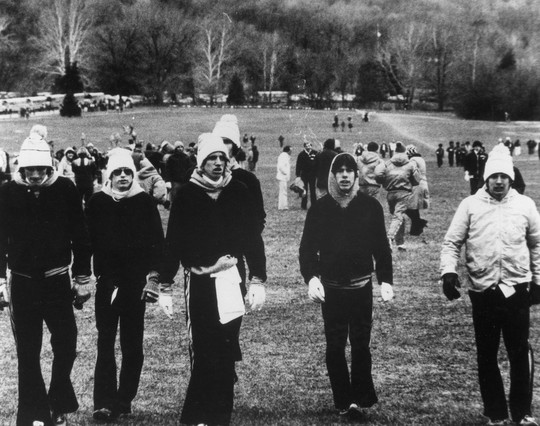 1975 Dual Meet TR-HF, start of the 2 Mile. Zapchenk, Duncker, Wagner (l-r) in front, Midtlyng, Youga (l-r) in back. The Wales Wonder (Mike Prizy) is not shown, Lane 1. I believe Priz won the race. It was a frigid day, Zapchenk was trying to show some Senior leadership and ran without gloves or hat, nobody followed which was typical... J.Z.
Wags update...: Regarding the picture of the start of the 2 mile against H-F, I won the varsity race and Jim Galen won the the frosh/soph race. Both races were run at the same time, Jim Galen and I ran together the whole way, Galen sprinted to cross the finish line first. It was my first ever varsity dual meet win, even though Galen beat me to the finish line to claim the frosh/soph win. J.W.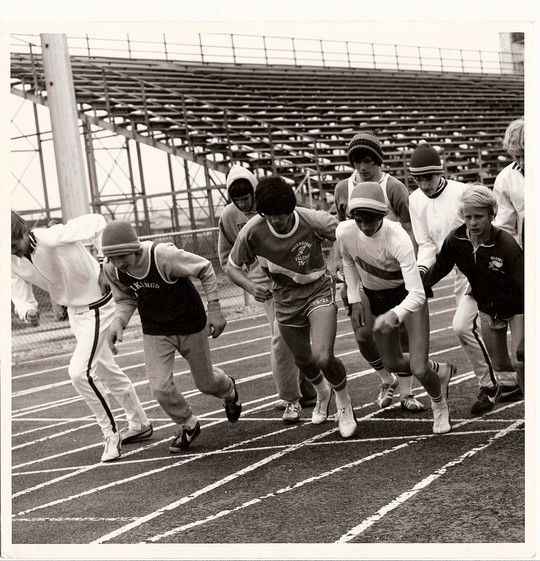 12/21/08 Team X-mas Get Together (Skip Stolley, Manny Perryman)
12/21/08 Team X-mas Get Together (Ed Hawkins, Mike Marshall)
12/21/08 Team X-mas Get Together (Mike Prizy, Vinram Wade-Bey)
12/21/08 Team X-mas Get Together (Roy White (Thornton-72), Bob Moffett, Greg Galen)
After sharing the infamous "Greenwood Avenue bowling" stories, TR Alum, Jeff Heath (stationed in Germany), was honored by the Army Corps of Engineers with the coveted "Lifetime Achievement" award. J.G.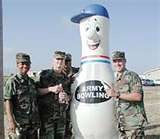 1978 XC Team 3rd place at state
front row - Mike Sullivan, Glen Hall, Cliff Hall, Perry Asauskas
back row - Coach Pete Reiff, Mike Kirk, Jeff Heath, Larry Young, Coach Skip Stolley
11/2008 THE VOICE OF EIU...AND MANY OTHERS
Matt Piescinski -75 completed his BS degree at EIU in 1979. Always enjoying athletics, he became close friends with competitors in all sports and for more than two decades announced all EIU home football and basketball games. He works for the MARS Corporation (Mattoon) and has earned other announcing assignments at EIU (graduation) and other athletic competitions in the state. In addition, he has announced all the State Track Meet competitions for many years and a few weeks ago, he did "roving reporting- race progress announcements" in the lead vehicle at the State Cross Country Championships in Peoria. He has also done this in the past. J.W.
1980 Dennis Strong - what 23' 1-1/4" looks like.....
Mike Sullivan, Jeff Pawlowski and Mike Kirk (all TR 80) about to start their 'hill workout'
OK, who has a picture of the 1978 2-mile relay guys???
1976 Freshman X-Country Team