United Township

High School




Class Of 1969
Welcome to the United Township High School Class Of 1969 web site.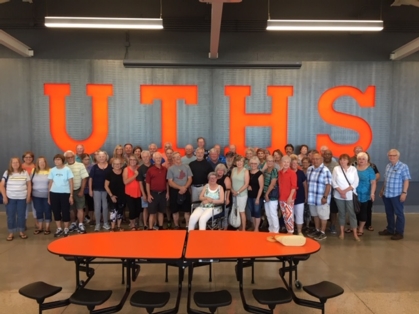 CLASS REUNION PHOTOGRAPHS ARE NOW AVAILABLE FOR VIEWING FROM THE LINK IN THE YELLOW BANNER!
...and so, the 50th Class of 1969 Reunion is now behlnd us. Activities included a Friday morning golf outing, a Friday afternoon tour of the newly renovated UTHS South Campus (see photo above), and a Friday evening casual get-together at Leisure Time Billiards and Sport. The Saturday evening main event was held in a beautifully decorated Johnny's Italian Steakhouse banquet room with lots of mixing and mingling with classmates, eating delicious food, remembering those classmates that have passed away, honoring classmates that have served in the military, and being entertained by the Master of Ceremonies (thanks, Larry Sandoval).
Most importantly, a big thank you to the 50th Class of 1969 Reunion committee:
Committee members are, back row, from left, Rich Hammond, Bob Bertram (aka Pete the Panther) and Ken Collis; middle row, from left, Rita Cunningham, Lucia Veryzer Bertram, Dee Ader Hammond and Cathy Burns Schulte; and bottom row, from left, Deb Holt Collis and Karen Gustafson Lemmon.