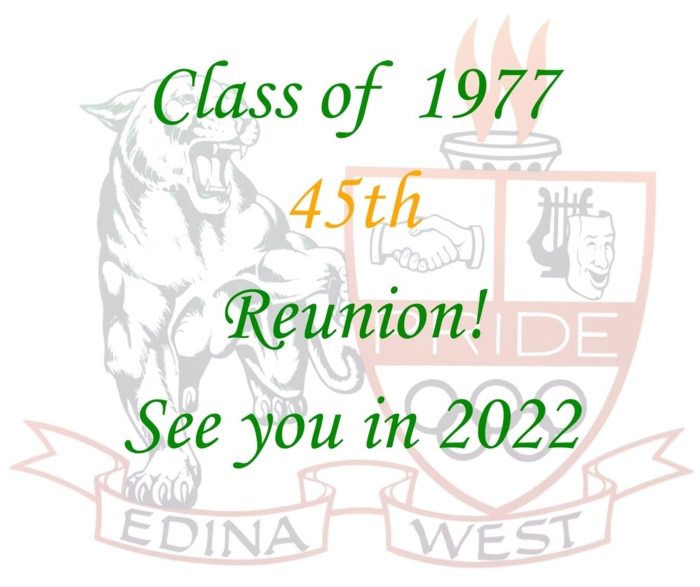 Welcome to the Edina West Class of 1977 Website 45th Reunion Page!
The 45th is a go! GOLF 8/26 Party 8/27
We will be bringing it home to Edina and hosting our event for both golf & party.
Minimum donations will be anounced in a few weeks, we don't anticipate the donation to be anymore than our last
event and the new venue should help with that. With that in mind, the committee would very much appreciate at least 50 people
stepping up with their ticket donation ASAP to meet our continue financial obligations. We have used the previous account balance
forwarded to pay for the venue deposit (reservation) and will have more deposits due as we get closer. NOTE; we do not have a single
financier as we did last time, so it's neccessary to get funds rolling in the early part of the planning process.
Fund the 45th $$$

Quick access to the 40th Reunion Page (click)

How can you help?
* If you haven't claimed your page... please do so! (Unclaimed Profile)
* Keep your information current! We spent a few100 dollars looking for some of you. We promise NOT to abuse your info.
Note, we will not look for you this year, to costly.
* If you know where people are, please call them, and then send them a link to our site. (www.edinawest77.com)
* If you are on one of these lists...... well, it means we need your info. We are so sorry for harping on this one thing, but
it makes the committees job easier and again its the $$$ thing.
Exception, you contact us and tell us. We do have some classmates in positions that need anonymity.
(Unclaimed Profile)
(Missing Information)

NONE ...of your information is shared with others, the only people who have access to addresses,
emails & phone #'s are those with admin capabilities. If you are inappropriately contacted, called, emailed, or otherwise, please let us know.

If you should have any difficulty with this site, please Contact Us!

If you have any questions, click on the 45th Reunion Committee page and direct your questions to a committee member of your choice.

You can also follow us at Edina West 77 Facebook
Getting in the spirit for the 45th!!
This was made for the 35th! I need more photos to update this show!! Send me oldies but goodies! krduryea@gmail.com
Check it out! https://youtu.be/AL8uTOqCVHU