ANNOUNCEMENTS
Looking forward from this life during pandemic, I hope each and every one of you, your families, friends and those you care about, are healthy, safe, and remain so.
Whenever our next EW'77
reunion happens, let's all show up and give each other hugs!

Thinking about future fun!

Tris Tupa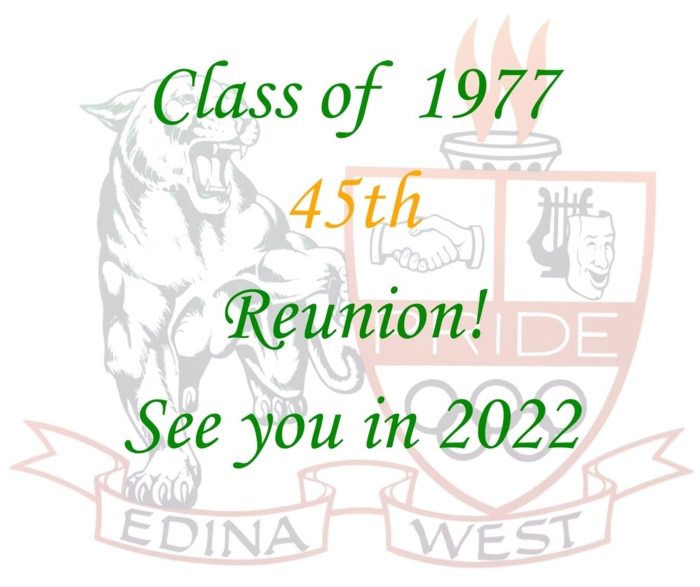 Welcome to the Edina West Class of 1977 Website 45th Reunion Page!

Quick access to the 40th Reunion Page (click)
Here we are already looking forward to the 45th Reunion! Why you may ask, well... seriously we started in December
of 2016 and found it took a lot more than we thought to pull it off. Looking forward to a little less stress for the next Party.
Fund the 45th $$$

How can you help?
* Send us a message that you would like to be on the next committee. Contact Us
* If you haven't claimed your page... please do so! (Unclaimed Profile)
* Keep your information current! We spent a few100 dollars looking for some of you. We promise NOT to abuse your info.
* If you know where people are, please call them, and then send them a link to our site. (www.edinawest77.com)
* If you are on one of these lists...... well, it means we need your info. We are so sorry for harping on this one thing, but
it makes the committees job easier and again its the $$$ thing. We're not going to stop trying to find you.
Exception, you contact us and tell us. We do have some classmates in positions that need anonymity.
(Unclaimed Profile)
(Missing Information)

NONE ...of your information is shared with others, the only people who have access to addresses,
emails & phone #'s are those with admin capabilities. If you are inappropriately contacted, called, emailed, or otherwise, please let us know.

If you should have any difficulty with this site, please Contact Us!

Your thoughts matter, we have discussed putting together a poll or questionnaire to get idea's... or you
just send them into Contact Us. (What was great what wasn't so great? Locations, Dates, etc.) ANYTHING!

If you have any questions, click on the 40th Reunion Committee page and direct your questions to a committee member of your choice.

You can also follow us at Edina West 77 Facebook