In Memory
Donnie Baca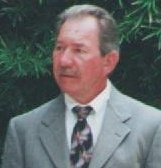 Donald L. Baca
Donald L. Baca, of Houston, formerly of El Campo, passed away on April 18, 2016 at the age of 70. He was born October 9, 1945 in La Grange, TX. He attended El Campo schools. Donnie served in the U.S. Army from 1965-1967.

He is survived by his mother, Julia Baca of El Campo; sister, Patricia (Pat) Baca Taylor of El Campo; daughter, Stacy Baca Holzapfel and husband David of Houston; granddaughter, Katelynn Holzapfel of Houston; son, David Baca of Houston; girlfriend, Clarissa Lockett of Houston.

Donnie was preceded in death by his father, Lloyd W. Baca and brother-in-law, Homer Taylor.

Visitation will be from 9 a.m. to 11 a.m. on Thursday., April 21, at Triska Funeral Home. Funeral services follow at 11 a.m. with Rev. Cynthia Tobola officiating. Interment with military honors under the auspices of American Legion 251 will follow at Holy Cross Memorial Park.

Memorial donations in honor of Donnie may be made to St. Philip Catholic School, 304 W. Church St., El Campo, Texas 77437, or donor's choice.