In Memory
Claudia Frazier (Michalec)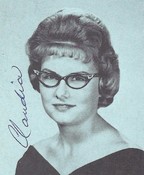 Claudia Cay Frazier
Claudia Frazier Michalec passed away on November 17, 1996. She was born on February 14, 1945, to Frances Eloise Owen Frazier and Byron Leo Frazier.
Claudia married Adolph Michalec, Jr. Together they raised four children. At the time of her death, she had four grandchildren.
Claudia is buried at Oaklawn Memorial Park in El Campo, Texas.