In Memory
Richard Gerla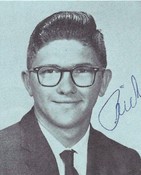 Richard L. Gerla
Richard L. Gerla Jr., 62, of Troup died Wednesday, Oct. 31, 2007 in a Tyler hospital.
He was born April 15, 1945 in El Campo to the late Richard L. Gerla Sr. and Antonia Angeline Hubenak Gerla.
He is a veteran of the US Army and served in the Vietnam War. Gerla received his bachelor's degree from the University of Houston and his master's degree in counseling from Sam Houston State University.
He married Jacqueline Kay Parten January 18, 1969 in Houston. He was a math teacher at Carlisle ISD.
Gerla was an avid sportsman who loved to fish and hunt. He was a wonderful husband, father, son, brother, and teacher.
Survivors include his wife of 38 years, Jackie Gerla of Troup; a son, Jeffrey Jack Gerla of Troup; an adopted son, Chad Meroney of Troup; his mother, Tonnie Gerla of El Campo; three brothers and two sisters-in-law, Anthony Gerla of El Campo, Lawrence and Susan Gerla of Louise, and Ray and Kathy Gerla of El Campo; his father-in-law and mother-in-law, Jack and Jeanette Parten of College Station; a sister-in-law and brother-in-law, Suzanne and Kendall Hay of College Station; and several nieces and nephews.
A Funeral Mass was celebrated at 10 a.m., Saturday, Nov. 3, at Our Lady of Sorrows Catholic Church in Jacksonville with the Reverend Mark Kusmirek officiating. Burial was in the Griffin Cemetery under the direction of Cottle Funeral Home in Troup.
A Rosary was recited at 6 p.m. Friday, Nov. 2 at the funeral home.
Pallbearers were Lawrence Gerla, Ray Gerla, Anthony Gerla, Chad Meroney, Brent Hay and Joe Reed.
Honorary pallbearers were Jack Parten, Kendall Hay, and Robert Milne.