In Memory
Laura Gregurek (Schoellmann)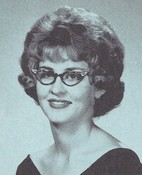 Laura Mae Gregurek Schoellmann
Laura Mae Gregurek Schoellmann, 62 of Houston, TX passed away there on April 23, 2007.
She was born in El Campo, Texas, on February 27, 1945, to the late Albert and Annie Vlasta Valigura Gregurek. She was the property manager for Post Oak at Woodway Apartments.
She is survived by her son Shawn Schoellmann of Sugar Land; sister, Betty Luco of Houston; brother, Albert Gregurek of Victoria; granddaughter, Savanna Schoellmann of California and companion Harry Hummer of Houston.
She is preceded in death by her parents; brother-in-law Wesley Luco; and former husband Lee Allen Schoellmann.
A Rosary was held on Thursday at 7:00PM at the funeral home. Funeral Services were on Friday, April 27, 2007 at 1:00PM at St. Philip the Apostle Catholic Church in El Campo with Rev. Gary Janak officiating. Burial was at Holy Cross Memorial Park.
Pallbearers were Je Mooheyham, Scott Mickelson, Daniel Barrera, Al Gregurek,Darrell Krpec,Barry Forrest, Greg Baklik, and Chad Graham.
Memorial donations may be made to Laura Schoellmann Memorial fund for her granddaughter Savanna. Triska Funeral Home, 612 Merchant St., El Campo, Tx 77437, 979-543-3681.